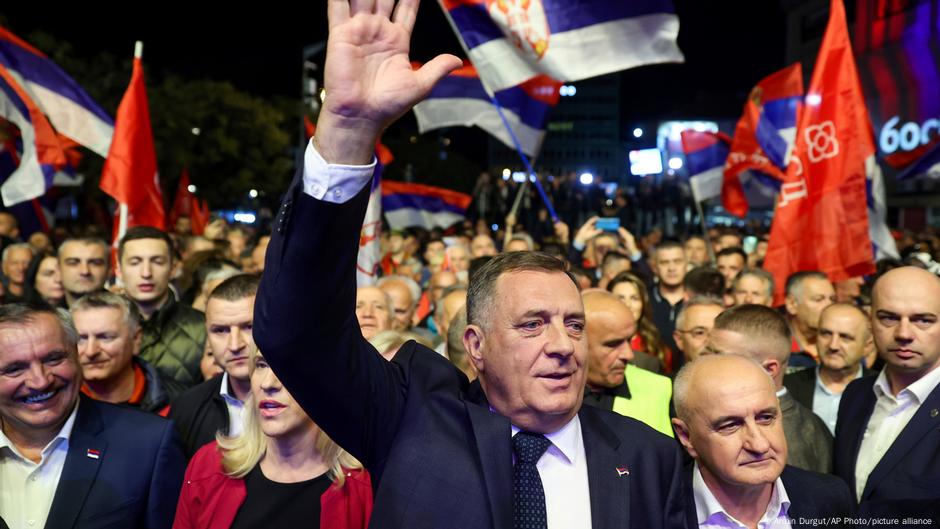 The leader of the Serb-controlled half of Bosnia on Sunday awarded Russian President Vladimir Putin the highest medal of honor in absentia, in recognition of his "patriotic concern and love" for the Bosnian Serbs.
Milorad Dodik, the US-sanctioned leader representing the Bosnian Serbs, is one of three leaders who make up the country's tripartite presidency. The other two leaders represent the Muslim Bosnian and Bosnian Croat populations.
"Putin is responsible for developing and strengthening cooperation, political and friendly relations between RS (Republika Srpska) and Russia," Dodik said. Republika Sprska is one of the two entities of Bosnia and Herzegovina, the other being the Federation of Bosnia and Herzegovina.
The award ceremony was held to commemorate the National Day of Republika Srpska, a controversial day that marks the day when the Bosnian Serbs declared their own state in Bosnia in 1992, sparking a four-year war that left around 100,000 people dead. came.
The illegal day has been criticized as discriminatory by other ethnic groups in the country, according to the constitutional court.
What is Dodik's relationship with Russia?
Dodik maintains close ties with Russia despite Putin's war on Ukraine. The Bosnian Serb leader tried to block the tripartite presidency's attempts to join the European Union's sanctions against Russia. Last September, he even visited Moscow.
"Thanks to the position of Vladimir Putin and the strength of the Russian Federation, the voice and position of Republika Srpska has been heard and respected," he said on Sunday.
Russian Ambassador Igor Kalbukhov also praised his country's relations with Bosnian Serbs at the award ceremony, which took place in the Bosnian Serb stronghold of Banja Luka.
"We believe this award is a confirmation of the strategic determination of our relations aimed at strengthening the friendship of our brotherly people," said Kalbukhov.
The medal will be presented to Putin at his next meeting with Milorad Dodik.
Since the end of the civil war, Bosnia has suffered deep divisions between the three main ethnic groups: Bosnian Serbs, Bosnian Croats and Bosnian Muslims. Russia has often exploited this division by supporting Dodik and his separatist policies.
Last month, Russia denounced an EU decision to grant Bosnia candidate status, a preparatory step for joining the bloc. Moscow had also previously warned that any attempt by Bosnia to join NATO would be considered a "hostile act".
rmt/aw (TBEN, Reuters)