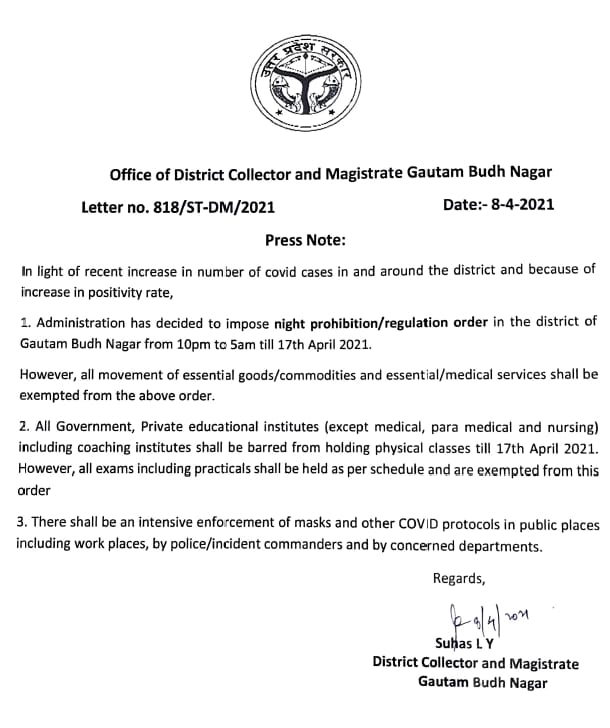 The Noida administration has imposed a nighttime ban / regulation order in the district from 10 p.m. to 5 a.m. until April 17, 2021. However, all movements of essential goods / commodities and essential / medical services are exempt.
The Order, signed by District Receiver and Magistrate Suhas LY. All public and private educational institutions, except paramedical medical and nursing institutes, including training institutes, will be banned from holding physical classes until April 17. However, all exams, including practical work, will take place according to the schedule and are exempt from the curfew.
"There will be intensive application of masks and other Covid protocols in public places, including workplaces, by police / incident commanders and by relevant departments," the order says.
Neighboring Ghaziabad District Magistrate Ajay Shankar Pandey also decided to implement a nighttime curfew in the district from Thursday April 8 to April 17, 2021.
The night curfew will be in effect from 10 p.m. to 5 a.m. The SM arrived at this decision after reviewing it with police and medical officials.
Notably, Uttar Pradesh Chief Minister Yogi Adityanath on Wednesday held a review meeting with officials via video conference to prevent COVID-19 infection in 13 sensitive districts in the state. He demanded that in districts where the number of corona infected patients is 100 per day or more, the district magistrate should make decisions about closing secondary schools taking into account the local situation. An appropriate decision must be made regarding the control of nocturnal movements in these districts, but in no case the transport of essential material such as medicines, food grains, etc.
In view of the increase in COVID-19 cases, a nighttime curfew has also been imposed in the UP capital, Lucknow, Kanpur and Varanasi, effective Thursday evening.
Yogi Adityanth also called a meeting Thursday evening to discuss the state's COVID-19 situation.
.