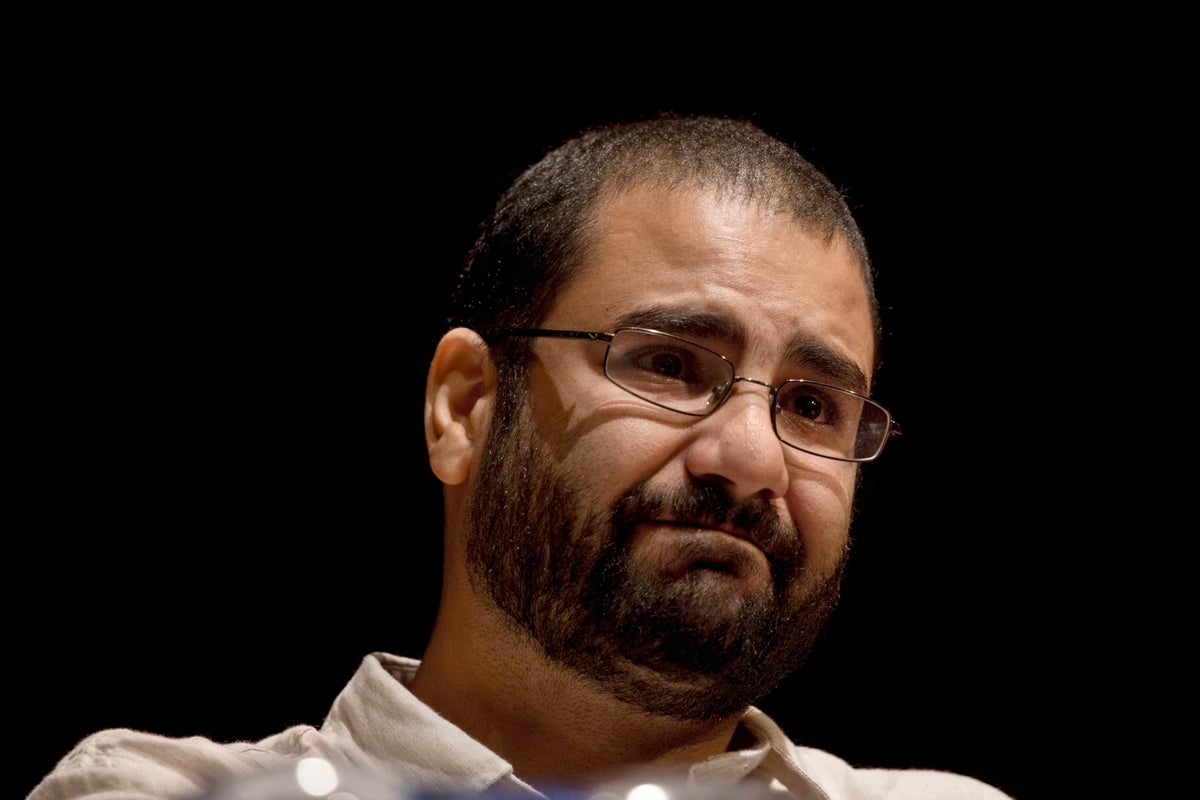 The family of British-Egyptian Alaa Abd El-Fattah on hunger strike has said medical interventions have been undertaken to maintain his health.
Prison authorities informed the family of the 40-year-old in Cairo.
"They said medical procedures were being performed to preserve his health and legal entities were informed," his mother Laila Soueif told Reuters by phone.
"No one has officially notified us of any action taken."
Abd El Fattah, a human rights activist, stopped drinking water on Sunday after a six-month hunger strike in protest at his unjust detention and Cairo's refusal to grant him consular access.
Without water, Amnesty International's prisoner of conscience will die within days.
His mother added: "They say he is still in prison. They refused to let me wait outside the prison, refused to receive letters from me."
His sister Mona Seif wrote in a Facebook post this morning: "How can they not inform us and the lawyers? How can we not see Alaa herself?" adding in a tweet that she is "terrified".
She tagged Prime Minister Rishi Sunak, Foreign Secretary James Cleverly and Commonwealth Foreign and Development Minister Lord Ahmed and also wrote: "Our mother should definitely see him, if anyone from @UKinEgypt so we understand his real health status!!
Egypt currently hosts Cop27 and Mr Sunak is in the country along with dozens of world leaders on his first major international trip since taking office.
Before flying to Sharm El-Sheikh for the summit, Mr Sunak promised Mr Abdel-Fattah's family that his release was a "priority" for the government.
However, since landing, he has been filmed dodging journalists' calls for comment on the status of the negotiations.
Abdel-Fattah, one of Egypt's best-known pro-democracy activists, has spent most of the past decade behind bars. He is currently serving his last five-year prison sentence for sharing a Facebook post criticizing prison conditions. He has repeatedly called for the release of all those unjustly detained in the country.
Egyptian President Abdel-Fattah al-Sisi has been accused by right-wing groups of strangling freedoms and violently rooting out dissent since he took power after a military coup in 2013.
Authorities have arrested tens of thousands of people, while hundreds of protesters have been killed over the years. Protests have been effectively banned and hundreds of websites have been shut down, including the Human Right Watch website most recently this week.
Meanwhile, human rights groups have said they fear the 40-year-old will not survive a water and hunger strike.
"I cannot emphasize how dangerous his situation is," said Hussein Bayoumi, Amnesty International's Egypt researcher. TBEN on Tuesday.
"It is essential that the Egyptian authorities allow contact" [with his family] and access to independent medical professionals chosen by his family who have access to his medical situation, otherwise we risk Alaa Abdel-Fattah dying in prison."