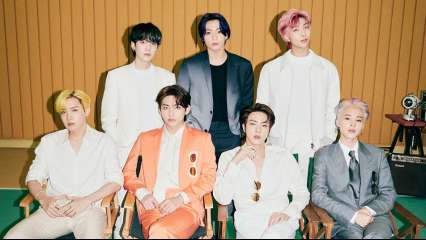 Members of the widely acclaimed K-pop group Jin, Suga, J-Hope, RM, Jimin, V, and Jungkook have been hugely popular for some time now.
President Moon Jae of South Korea named them "the president's special envoy".
On Wednesday, he named a Grammy-nominated boy group "The President's Special Envoy for Future Generations and Culture," continuing his efforts to "spread hope and positive energy" through music.
According to a series of tweets posted to the verified Twitter account of the Office of the President of the Republic of Korea, the septet will also attend the 76th United Nations General Assembly in September as part of his duties.
A tweet read
"BTS will participate in major international conferences such as the 76th United Nations General Assembly in September to deliver messages of comfort and hope to young people around the world as a 'special envoy for future generations and culture'. We also plan to carry out various activities to promote international cooperation in order to solve global problems such as the environment, poverty, improvement of inequalities and respect for diversity ".
As a result, BTS will now represent South Korea at important international conferences in the future. They will also represent South Korea at the 75th United Nations General Assembly, which is scheduled to take place in September this year. Not only that, but BTS will also host a number of events and activities aimed at promoting global cooperation to address global challenges such as poverty and injustice.
The tweet also referred to BTS 'latest track, "Permission To Dance," which is about spreading hope and harmony.
I said, "The activities that BTS, which has spread hope and positive energy to people around the world who are exhausted by the protracted COVID-19 crisis, will be carrying out as 'the President's special envoy.' will go a long way in strengthening South Korea's national status as a leading country in the post-COVID-19 era. We're waiting impatiently."
This is not the first time BTS has spoken at a United Nations event. In 2018, the group gave a speech at the United Nations about their "Love Myself Campaign".
.