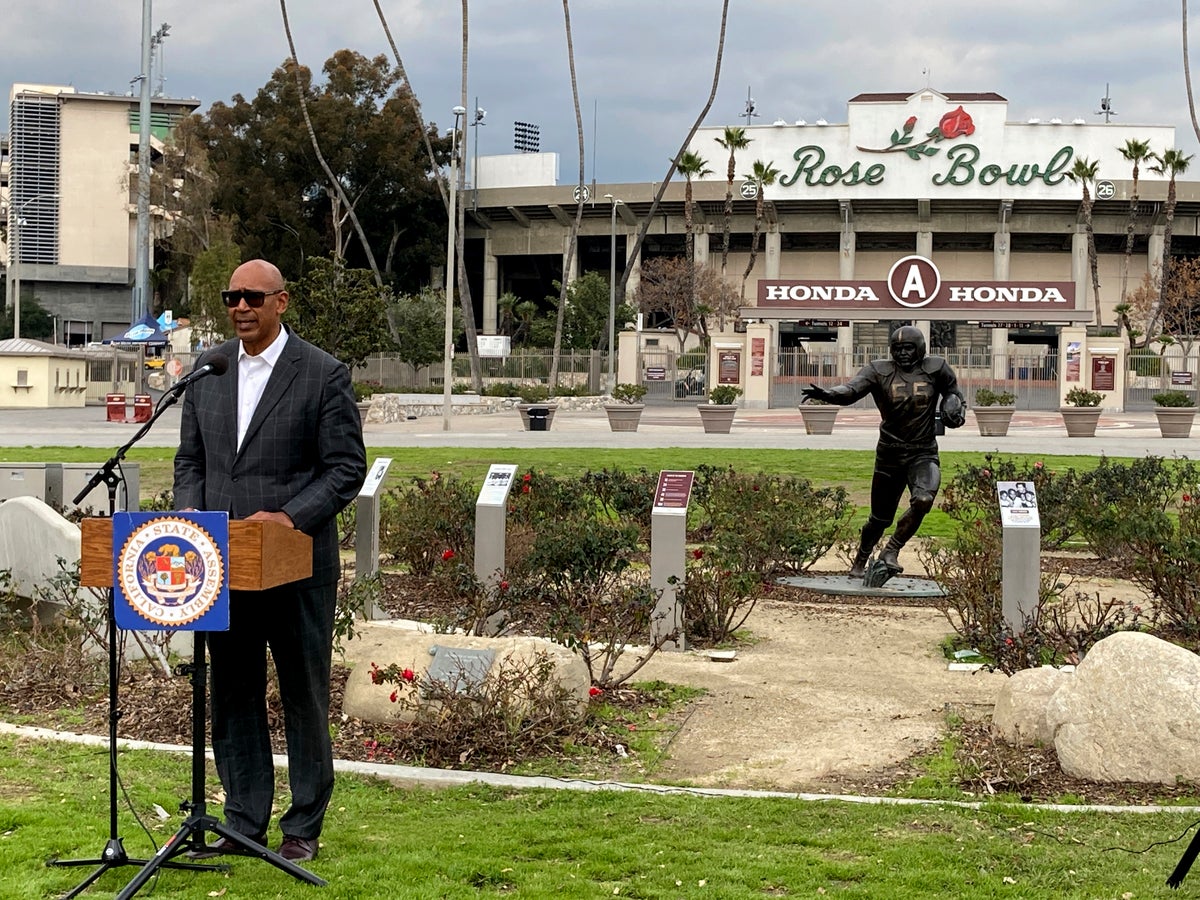 A California legislator introduced a bill Thursday that would require schools that play major college sports to pay some athletes as much as $25,000 a year, along with covering the cost of six-year guaranteed athletic scholarships and post-college medical expenses.
Sponsored by Assemblyman Chris Holden, a former San Diego State basketball player, the College Athlete Protection Act is the kind of state-level legislation the NCAA wants federal lawmakers to avoid.
"I know how close you can get to injury and take away not only the game you love to play, but your chance to finish college," Holden said at a news conference outside the historic Rose Bowl stadium.
California was the first state to pass a law in 2019 giving college athletes the right to be compensated for name, image and likeness. That prompted similar action by state legislators across the country.
Holden wants the state to lead the way again.
"I'm not willing to wait for Congress to deal with this pressing issue," he said as he stood in front of a bronze statue of Jackie Robinson, who was a multi-sport star at UCLA. "This is an extremely competitive and inclusive bill that I believe will provide the income and health services our college athletes deserve."
The NCAA lifted the ban on athletes cashing in on their fame with sponsorship and endorsement deals, but more than two dozen state-level NIL laws have made it impossible for the association to create detailed and uniform rules of its own.
Last week at the NCAA convention, college sports leaders reiterated the need for Congress' help in regulating NIL compensation and protecting the association from state laws that undermine its ability to govern college sports.
"We need to consolidate that, when it comes to college sports, federal law overrides state law," Baylor President Linda Livingstone, the chair of the NCAA's Board of Governors, said last week. "In areas like NIL, we are already seeing state legislators take measures that they believe will give the universities in their states a competitive advantage over their neighbors."
Assembly Bill 252 – introduced by Holden, a Democrat whose district includes Pasadena – calls for California Division I schools to share 50% of revenue with athletes deemed undervalued because the amount of their athletic scholarships does not match their market value. That would mainly target athletes who compete in income-generating sports such as football and basketball, but not exclusively.
"It's a law that will end the blatant exploitation of California college athletes," said Ramogi Huma, executive director of the National College Players Association. "The NCAA economic model is illegal and based on racial injustice. The NCAA uses amateurism as a cover to systematically wrest generational wealth from predominantly black athletes from lower-income households to pay the lavish salaries of predominantly white coaches, athletic directors, commissioners, and NCAA executives.
Money paid for scholarships would be included in the 50% that goes to the players. The rest would go into a fund that would be paid out annually. Individual payments would be determined based on what schools bring in and should not exceed $25,000 per year for any athlete.
Any excess income from the athletes' share would go into a graduate fund from which athletes would be eligible to draw after graduating within six years.
"It's going to improve things, not just for football players, but for all college-level student-athletes, which is great," said Elisha Guidry, a graduate student and football player at San Jose State, who co-sponsored the bill's announcement with Holden. .
"I came here and college sports was a way and I'd like to think that when I'm done with my career, college sports will be better and going in a better direction in the future," said Guidry, who previously played at UCLA before graduating last year. graduated.
The bill also calls on schools to cover sports-related medical costs, establish and enforce safety standards and transparency in recruiting, maintain all sports programs — not just those that generate revenue — and Title IX compliance.
Also with Holden at the Rose Bowl was Amy LeClair, a 2017 San Jose State graduate who competed in gymnastics. She said she was bullied and manipulated by her coaches throughout her career and sexually assaulted by the program's head coach.
"Universities have not earned the privilege of operating unchecked, nor have they earned the benefit of the doubt," LeClair said. "I never imagined that the very system designed to protect me would be the source of my exploitation. This is what drove me to sit here today to help advocate for the protection of NCAA athletes.
The bill is reminiscent of a bill introduced at the federal level in 2020 by four Democratic senators, including Cory Booker of New Jersey, called the College Athlete Bill of Rights.
That bill, similar to many others introduced in Congress regarding college sports and more specifically NIL, went nowhere.
Holden introduced the College Athlete Civil Rights Act of 2019 which was eventually signed into state law. That required schools to document and inform athletes of their rights and prohibited retaliation against athletes who reported violations or abuse.
___
Russo reported from New York.
___
TBEN College Football: https://apnews.com/hub/college-football and https://twitter.com/ap_top25