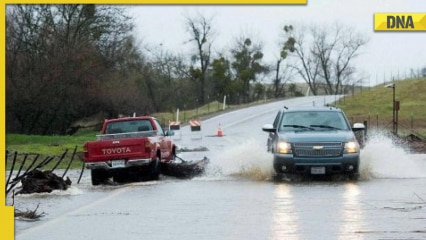 California flood storm: 19 deaths reported from drowning, fallen trees; more heavy rain, power outages
The ninth atmospheric river in a three-week streak of major winter storms swept through California Monday, making mountain riding dangerous and flooding risk high near swollen rivers even as the sun came out in some areas.
California is once again ravaged by heavy rainfall, wind and snow, triggering flood warnings and power outages in several areas.
Heavy snow fell over the Sierra Nevada and the National Weather Service discouraged travel. Interstate 80, a major highway from the San Francisco Bay Area to Lake Tahoe ski resorts, has reopened with chain requirements after intermittent weekend closures due to whiteout conditions.
The state has seen at least 19 deaths from storms in the past two weeks, many from drowning and fallen trees.
"If you must travel, be prepared for hazardous travel conditions, significant travel delays and road closures," the Sacramento weather agency said on Twitter.
The University of California Berkeley Central Sierra Snow Lab tweeted Monday morning that it had recorded 49.6 inches (126 cm) of new snow since Friday.
(Read also: Laid off for another year? List of technology companies that have laid off employees in the past 15 days)
An avalanche warning has been issued for the central Sierra, including the greater Tahoe area.
A barrage of atmospheric river storms has dumped rain and snow across California since late December, knocking out thousands of power, inundating roads, toppling trees, releasing debris flows and triggering landslides. Monday's system was relatively weak compared to previous storms, but risks of flooding and mudslides remained because the state was so saturated, forecasters said.
There were mostly dry days in the week's forecast, though some parts of Northern California could see more rain midway through the week.
The sun came out Monday in San Francisco, where 20.3 inches (51.5 cm) of rain has fallen at the city's airport since Oct. 1, when California normally begins recording rainfall for the year. The average for the 'water year' is 19.6 inches (49.8 cm), "so we've surpassed the yearly total with 8 months to go," the San Francisco Weather Bureau tweeted. Across the bay in Berkeley, 10 homes were evacuated Monday when a sodden mound collapsed, sending mud onto property. No injuries were reported.
Up to 2 inches (5 cm) of rain fell in the drenched Sacramento Valley on Sunday, warning residents of Wilton and surrounding communities to prepare to leave if the Cosumnes River rose further.
In Monterey County, the swollen Salinas River flooded farmland over the weekend and officials said Monday it is still rising. To the east, flood warnings were still in effect for Merced County in the agricultural Central Valley, where Governor Gavin Newsom visited Saturday.
(Read also: Plane crash in Nepal: Co-pilot Anju Khatiwada lost husband of pilot in 2006 crash of same airline)
Newsom signed an executive order on Monday to further strengthen the state's emergency response and help communities that have been harmed. President Joe Biden declared a major disaster in the state and ordered federal aid to complement local recovery efforts. In Southern California, the sun was shining in Los Angeles, but there were still winter storm warnings and advisories for mountain areas, where many roads remained impassable due to mud and rock slides.
Two northbound lanes of Interstate 5 near Castaic in northern LA County were closed indefinitely after a hill collapsed. Downtown Los Angeles set a rain record on Saturday with 1.82 inches (4.6 cm), the weather service said.
There have been at least 20 deaths from storms and a 5-year-old boy went missing after being swept from his mother's car by floodwaters in San Luis Obispo County.
Forecasters kept their eyes on a Pacific storm to see if it gains enough strength to become the state's 10th atmospheric river of the season. Either way, it will likely only bring light rain and will be mostly confined to Northern California when it makes landfall on Wednesday, state climatologist Dr. Mike Anderson said at a state weather briefing Monday.