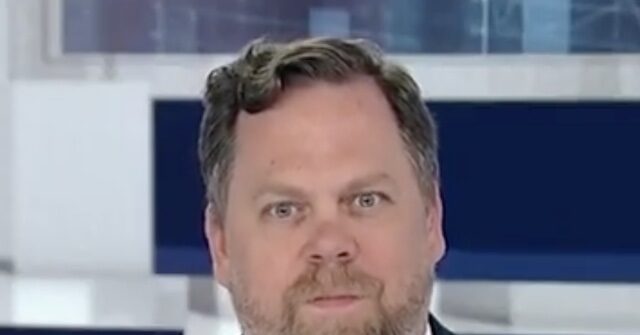 "What we're seeing is the entire economy is sliding into recession," Breitbart Economics editor John Carney said in an interview Wednesday on Larry Kudlow's TBEN Business show of the same name.
Carney explained that the most recent economic data — from the crashing Empire State manufacturing survey to the disappointing holiday sales numbers to the weaker-than-expected producer price index — are all pointing more toward a recession.
The first "hint" of what lies ahead came from Monday's New York Fed manufacturing survey, Carney said. "That thing fell off a cliff. It was much worse than anyone thought. It went from a negative [11.2] to a negative [32.9]. So this thing was a wreck. It tells us that the industrial production numbers we're looking at for December at this point are likely to get worse in January."
"And you can see it all over the economy," Carney added. "In October, retail sales were higher than in November, which were higher than in December. So what we're seeing is this slide into an economy-wide recession."
All eyes will be on the Philadelphia Fed's investigation for confirmation of this downturn, Carney explained.
"What we're looking for now is confirmation from the Philly Fed survey," he said. "That is the most important. It has the longest history. It best reflects what is happening in the country. So if it's just New York, it might not be a recession right away."
Because of the strong labor market data, Carney initially predicted a recession in the second half of the year. However, he said "today's numbers scare me that things are moving much faster than we thought."
As Carney noted in his Wednesday Breitbart Business Digest newsletter:
What seemed like hopeful economic data a week ago now looks like a harbinger of a faster-than-expected economic collapse. The combination of the stronger-than-expected job data and the weaker-than-expected consumer inflation rate led many to rekindle the possibility of a "soft landing" for the economy – Wall Street slang for exiting the period of high inflation without a serious economic slump. Not anymore. The retail sales figure is just the latest dismal economic figure received this week.

The producer price index for final demand fell by 0.5 percent, indicating a sharp drop in consumer demand. The index for intermediate demand, which is basically business-to-business sales, fell 2.9 percent. Industrial production fell by 0.7 percent, much worse than the forecast of 0.1 percent. Industrial production for December was down 1.3 percent and November's 0.6 percent decline was revised to a 1.1 percent decline. Yesterday's Empire State Manufacturing indicated a dip in both output and forward-looking demand signals.

The expansion isn't over until it's over. But this week's data suggests the recession may not be as far off as it was a week ago.
Kudlow asked Carney what the Federal Reserve should do in response to the economic data. Carney warned that the Fed should not shy away from its aggressive inflation battle.
"I think the Fed really shouldn't look at these numbers and decide that inflation is beat," he said. "We have had a few months – now two months – of soft inflation data. That's happened in the past, and then you get inflation back when it looks like the Fed is going to step back."
This is a warning that Carney has sounded consistently in his Breitbart Business Digest. In response to Wall Street's overly optimistic economic forecasts, Federal Reserve Chairman Jerome Powell has sent aggressive signals to the market that the Fed has no intention of going back on its commitment to fight inflation.
"Fed officials have become increasingly explicit about the economic, social and political headwinds they expect to face and overcome in their crusade against inflation," Carney noted last week.