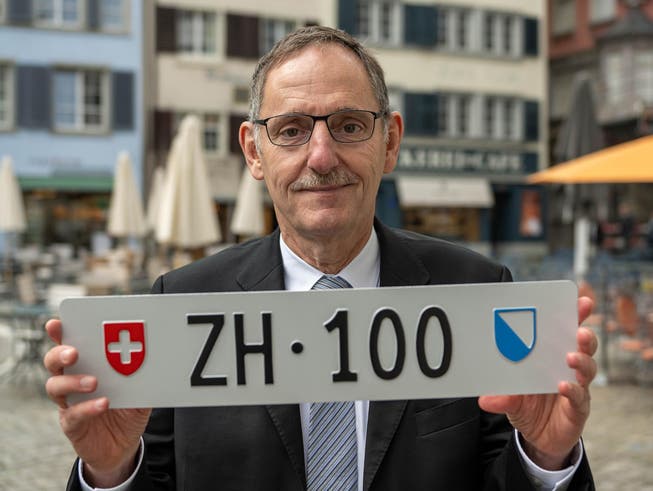 auction

Auctioned for CHF 226,000: "ZH 100" misses a Swiss record
At a license plate auction, "ZH 100" went over the table for 226,000 francs. The Zurich number is now the second most expensive in Switzerland. The auction was temporarily interrupted because some bidders did not have the necessary money.
For a week, car lovers could bid for the "ZH 100" number plate – the lowest number available in the canton to date. The auction ended on Wednesday evening: the license plate went for 226,000 francs over the table, as the road traffic office of the canton of Zurich reports on its website.
This makes "ZH 100" the second most expensive car number in Switzerland. The previous record holder is still the number "ZG 10", which was auctioned in 2018 for CHF 233,000. The highest bidder with the username "mistermh" won the Zurich auction. A total of 393 bids were received, the starting price was 4,000 francs.
These are the ten most expensive license plates in Switzerland
"ZG 10": 221,600 francs
"ZH 100": 226,000 francs
"ZH 888": 194,000 francs
"SG 4": 179,700 francs
"VS 1": 160,100 francs
"ZH 987": 152,400 francs
"BE 5": 151,000 francs
"TI 10": 135,000 francs
"SG 1": 135,000 francs
"AG 55": 132,400 francs
However, the number plate auction did not go entirely smoothly. The road traffic office had to interrupt the auction last Friday evening. The reason: many bids have been received from people "who obviously do not have the necessary financial means," as the road traffic office writes at the request of CH Media. The auction was finally activated again on Saturday morning.
The authority goes on to say that it continuously monitors all auctions in accordance with its general terms and conditions. In it, the road traffic office states that it "can carry out creditworthiness checks at its discretion". In addition, registered bidders can request "credit card details, another proof of creditworthiness or the prior payment of a deposit".
One zero too many at the Schwyz auction
In other cantons, too, difficulties arose at auctions because of payment. In May, for example, the "SG 4" license plate was auctioned for CHF 179,700. At the time, it was the second most expensive license plate number in Switzerland. However, the money has not yet arrived at the St.Gallen Road Traffic Office. Ultimately, the highest bidder was sold.
In the canton of Schwyz, the number plate "SZ 6734" had to go under the hammer again. In October someone got hold of the number for CHF 35,500. But the highest bidder made a typo and added one zero too many. The road traffic office then canceled the auction and restarted it. Incidentally, this expires in six days – the current highest bid is CHF 2,650.