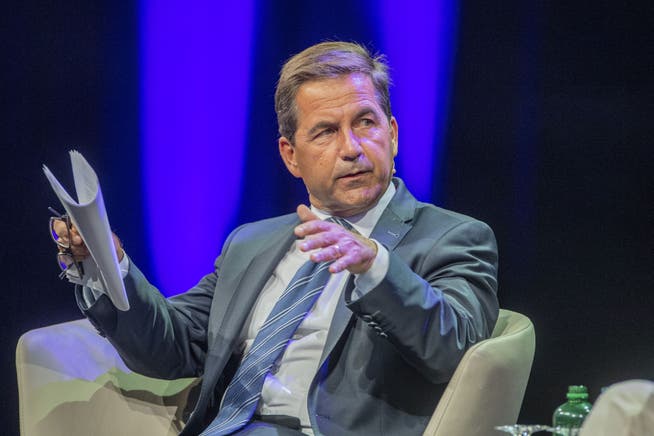 SWISS MEDIA FORUM

Federal Chancellor Walter Thurnherr: Switzerland must exchange ideas more closely with its partners abroad
Switzerland is not as well connected internationally as she thinks. Federal Chancellor Walter Thurnherr criticized this in his speech at the opening of the Swiss Media Forum in Lucerne.
The Federal Parliament is in favor of making it easier to prevent unwanted media texts. And a special investigator is taking rigorous action against indiscretions in the federal administration, which means several days in custody for the communications chief of a federal councilor. Federal Chancellor Walter Thurnherr spoke about the problems of political communication in Switzerland at the opening of the Swiss Media Forum in Lucerne.
Thurnherr did not go into the two sensitive cases in his speech. He stated: Anyone who claims that the Federal Council used to communicate better suffers from a bad memory.
The Federal Chancellor sees a main problem in political communication in the "lack of reflective understanding among one another". It is increasingly about gaining communicative sovereignty over a topic – and not about a real exchange. "Communication becomes an instrument of clumsy persuasion. There is a lack of dialogue," criticized Thurnheer. In the many, often painfully boring podium discussions, the participants often talked past each other.
The Federal Chancellor sees foreign policy as the greatest challenge in political communication. Switzerland is not as well connected as she thinks. It is not enough to discuss bilateral relations with partners abroad – one must also regularly exchange views on major international issues. Thurnherr seemed to be alluding to the fact that the Federal Council was caught unawares by Russia's war of aggression against Ukraine.
Thurnherr finally criticized the federal councilors on two points: their growing staffs do not see themselves as part of the federal administration, but are primarily concerned with putting their own boss in a good light. The large number of leaks brought Thurnherr into connection with the work of these staffs. And: The Federal Council is spreading too many photos and too little information on social media. That has to change.