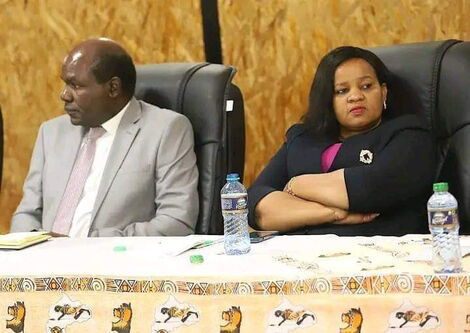 Independent Electoral and Boundaries Commission (IEBC) chairman Wafula Chebukati spoke with his vice-chairman Juliana Cherera and three other commissioners about the results of the presidential election on Monday, September 5.
Speaking at Anniversary Towers, Chebukati noted that the four commissioners were free to do as they pleased.
However, he confirmed that the four were still part of the committee.
IEBC President Wafula Chebukati and Vice-President Juliana Cherera during a meeting with party candidates in Bomas of Kenya on August 22, 2022
TBEN.co.ke
"As a committee, we have followed the law and it is up to them and their conscience to determine what they want to do in the future. We have not chased anyone away," Chebukati said.
The IEBC chairman noted that the Supreme Court ruled in favor of the commission over the credibility of the election process.
"TBEN Electoral and Boundaries Commission has finally won. We look forward to the full judgment of the Supreme Court and feedback from our stakeholders during the post-election evaluation exercise, which will provide information on areas for improvement in the electoral process," he said. . .
The chairman also highlighted the torment the IEBC staff had to endure during the election period. He wondered why no one had been arrested for ethnic profiling, cyberbullying, threats, torture and sometimes the death of his staff.
"To date, no one has been arrested for these crimes committed against members of the Commission and its staff. As it stands, no human rights and civil society organization has condemned these heinous acts against the Commission and its staff. Working for IEBC shouldn't be a death sentence," he noted.
The disagreement between the commissioners arose during the announcement of the presidential election in Bomas, Kenya, when four commissioners rejected the results.
In making its ruling, the Supreme Court noted that the commission's differences were not enough to overturn the presidential election.
"IEBC needs major reforms. However, should we annul an election because of a last-minute boardroom taping? We can't," reads part of the Supreme Court ruling.
Deputy Chief Justice Philomena Mwilu (left) and Chief Justice Martha Koome (right) during the Supreme Court hearing on August 31, 2022
Judiciary
dead to arrest