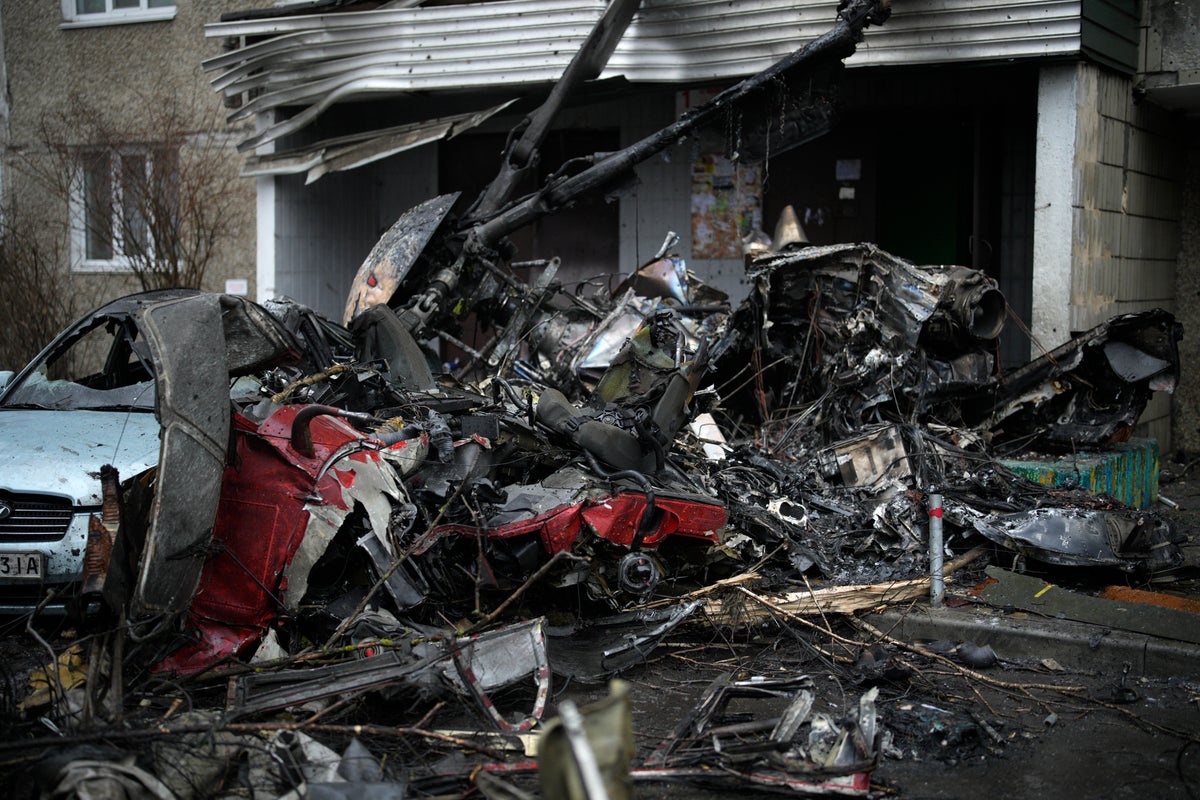 At least 15 people, including Ukraine's interior minister and three children, were killed when a helicopter crashed on its way to a "hotbed of war."
Interior Minister Denys Monastyrskyi, who oversaw Ukraine's police and emergency services, is the highest-ranking official to die since Russia invaded nearly 11 months ago.
National Police Chief Igor Klimenko said First Deputy Minister Enin and Secretary of State Lubkovych were also killed when the plane crashed near Kiev on Wednesday morning.
Helicopter wreckage lay outside a burning building and a fire broke out near the kindergarten as children and staff were evacuated from the building.
Nine of the dead were on board the emergency services helicopter that crashed in Brovary, the eastern suburb of Kiev, said Ihor Klymenko, head of Ukraine's National Police. The final death toll has yet to be confirmed, but previous reports from Ukraine said it could be as high as 18.
"There were children and staff in the nursery at the time of this tragedy," Kiev region governor Oleksiy Kuleba wrote on Telegram. "Everyone has now been evacuated. There are casualties."
Footage of the aftermath of the crash shared on social media showed a burning building and people could be heard screaming.
"The delegation was on its way to a hotspot," the deputy head of Ukraine's presidential office Kyrylo Tymoshenko said at a briefing.
It was not immediately clear what caused the helicopter to crash. Russia has not yet commented and Ukrainian officials at the time made no reference to any attack by Putin's forces.
"Unfortunately, this happened with a State Emergency Service helicopter that was fulfilling its duty," Air Force spokesman Yuriy Ihnat told Apostrof TV.
Ukraine's first lady Olena Zelenska was seen with teary eyes minutes before attending a World Economic Forum session in Davos, Switzerland, following news of the deadly crash.
Forum chairman Borge Brende asked for 15 seconds of silence after the session opened in honor of the Ukrainian officials killed in the crash.
It comes as Ukraine reported intense fighting in the east of the country, where both sides have suffered huge losses for little gain in the intense trench warfare over the past two months.
Ukrainian troops repelled attacks in the eastern town of Bakhmut and the village of Klishchiivka just south of it, the Ukrainian military said. Russia has been targeting Bakhmut in recent weeks, claiming last week to have captured the mining town of Soledar on its northern edge.
Western allies will meet Friday at a US air base in Germany to pledge more weapons to Ukraine. Particular attention is being paid to Germany, which has veto power over any decision to send its Leopard tanks, which are used by armies across Europe and are widely regarded as the most suitable for Ukraine.
Berlin says a decision on the tanks will be the first item on the agenda of Boris Pistorius, the new defense minister.
Britain, which broke the Western taboo on sending battle tanks over the weekend by promising a squadron of its Challengers, has called on Germany to adopt the Leopards. Poland and Finland have already said they are willing to send Leopards if Berlin allows it.