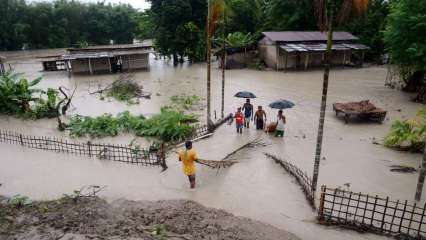 While preparations for the upcoming 2021 Assembly elections in Assam are underway, 4,000 children in Assam have drawn up a " children's manifesto " to steer the gaze of political parties and their leaders to their concerns.
This young demographic made up mostly of those who cannot yet vote has listed a ten-point charter of demands, reports The Bharat Express News.
"My village is located near a hill, which has no network. We had to walk 4 to 5 km every day just for the network to download our notes, "said Naba Kumar Bhakat, a 12th grade student from Kokrajhar district.
"The lockdown was very hard on everyone but especially on the students because we lost studies," he added.
This demand for better online education has manifested itself particularly in the context of the coronavirus pandemic and the national lockdown, which has led to school closures and highlighted the digital divide acting as a barrier for a lot in these times. They hope that elected officials will respect their charter and act according to their demands.
Some of their other demands and concerns relate to better educational and medical facilities in rural areas, as well as requirements for infrastructure like concrete bridges and libraries.
The booklet, which was produced by the United Nations Children's Fund (UNICEF) and the NGO Pratyek, states in its introduction: "Policies and programs are designed by adults who do not understand the point of view of a child but think that "adults know best". While we embrace their wisdom, we also believe that when a voice finds no representation in the process, it leaves a lot of things unanswered and doesn't solve problems. "
"There is a big gap between what we need and what a policy offers," he adds.
This ten-point charter of demands is compiled from a statewide survey of 4,000 children and includes concerns such as access to affordable health care and nutritious food, protection against violence in all its forms and the absence of discrimination based on class, caste, sex and religion. .
"For years the people around our village suffered from the lack of a bridge. It is not always easy to navigate the river by boat, especially in a medical emergency," said Kuldeep Narayan Bora, a class 10 pupil from the river island of Majuli. as The Bharat Express News says.
Assam suffers from flooding and soil erosion every year, affecting large swathes of its population. "Other than a bridge, I would like the government to look scientifically at the problem of erosion," he said.
UNICEF released a similar manifesto ahead of the Lok Sabha elections in 2019 but the one released this year focuses more on children's rights in the context of the pandemic.
According to Dr Madhulika Jonathan, head of UNICEF Assam, "The global pandemic has exposed deep inequalities in our societies that have left some children at much greater risk than others. Millions of people are still deprived of essential health care, a high percentage have been cut off from education due to the digital divide, and a large proportion of them have been left unprotected simply because they were born. in poverty or because of their ethnicity, race, gender.
The manifesto will soon be shared with the current leaders of the government of Assam, including the chief minister and the speaker of the legislature. It will also be shared with other major political parties to give them a place for these demands in their manifestos before the elections.
Focusing on children's demands, this manifesto also gives insight into their state of mind and thought processes, as they come from different socio-economic backgrounds.
"While the state's 12.7 million children do not have the right to vote, their concerns matter and they should be heard by those who stand for election," says the introduction. The survey for the brochure focused on two target age groups, those aged 8 to 12 and those aged 12 to 21. He tried to focus on vulnerable sections like working children, children of tea plantation workers, children with disabilities and those affected by the National Registry of Citizens.
According to the 2011 census, 41 percent of the people of Assam are under the age of 18 and therefore not eligible to vote.
.