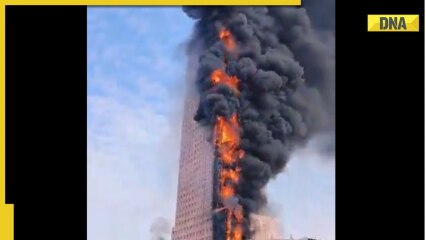 A major fire has broken out at a massive skyscraper in the Chinese city of Changsha, with harrowing images emerging from the site. Videos from Changsha show dozens of floors of the building going up in flames as firefighters try to put out the fire.
Despite the magnitude of the fire, no casualties have been reported so far, according to the China Telecom building where the fire incident took place, state media CGTN reported.
The commercial building is more than 200 meters high and is located in Changsha, it added. An investigation into the matter is underway. More details are awaited. State broadcaster CCTV further reports: "Thick smoke spews from the site and several dozen floors burn ferociously."
pic.twitter.com/lp4ekC3F4g— China in pictures (@tongbingxue) September 16, 2022
According to local media reports, firefighters have arrived at the scene and are trying to control the extent of the fire, while rescue operations are also currently underway. "Firefighters have started extinguishing the flames and conducting rescues on the spot," it added, according to TBEN reports.
The videos on social media show a huge orange flame engulfing more than a dozen floors of the building with a thick cloud of black smoke rising into the sky. According to reports, the burning skyscraper is owned by a state-run telecommunications company China Telecom.
(With input from agencies)
READ | Prince William says it was 'challenging' to walk behind Queen Elizabeth's coffin, rekindling memories of mother Diana's funeral