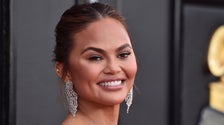 The 36-year-old model and lifestyle mogul announced the impending birth with a heartfelt Instagram post featuring photos showing her belly in lingerie:
"The past few years have been a blur of emotions to say the least, but the joy has filled our homes and hearts again. 1 billion shots later (in the leg lately, as you can see!) we have another one on the way.

"Every appointment I've said to myself, 'ok if today is healthy I'll announce it', but then I breathe a sigh of relief to hear a heartbeat and decide I'm just too nervous yet.

"I don't think I will ever leave an appointment with more excitement than nerves, but so far everything is perfect and beautiful and I feel hopeful and wonderful. Okay, it's been really hard to hold this in for so long!"
The announcement comes two years after the couple suffered a pregnancy loss from a child they named Jack.
"It was a tragedy," Legend told The Guardian in May. "But I think it strengthened our determination and our resilience because we were there for each other. It made us feel even more confident in who we were as a couple and as a family."
Teigen's post didn't say how far along she was or an expected due date, but she did announce in May that she had just completed another round of in vitro fertilization in hopes of fathering another child.
"I miss feeling lethargic and carefree at times, but to be honest towards the end it didn't give me that nice feeling anymore," she wrote on Instagram. "I drank to end the crazy anxiety that usually went away later when I – got this – stopped drinking! Sigh. Anyway, I feel really good."
fbq('init', '1621685564716533'); fbq('track', "PageView");
var _fbPartnerID = null; if (_fbPartnerID !== null) { fbq('init', _fbPartnerID + ''); fbq('track', "PageView"); }
(function () { 'use strict'; document.addEventListener('DOMContentLoaded', function () { document.body.addEventListener('click', function(event) { fbq('track', "Click"); }); }); })();