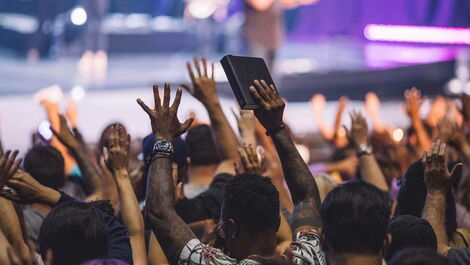 The Covid-19 pandemic has hit churches hard, relegating many from raking in over one billion Kenyan shillings per year to a few hundred thousand or even less.
Most of these churches have been forced to record sermons where a portion of the time is spent imploring members to remain committed to sending tithes and offerings via mobile money.
Two months ago, the pastor of the Church of the United Kingdom of Kibera, Victor Wafula, openly lamented the effects of the pandemic on his ministry income.
"Let's honor God with our finances and stay true to him. The coronavirus shouldn't be the reason people don't tithe. If we give our offering, then God can truly end this virus, "he said in a message sent to his church members via Facebook.
The loss of income led to "ungodly" feuds with openly armed Church leaders against each other.
A photo of a worshiping church congregation
File
One example is the bitter feud that ensued within the ministries of the Church of God on September 6.
Church leaders wanted to convert the Mariakani Christian Center, which sits on a two-acre lot at the South B Shopping Center, into a business center.
The drama unfolded when members opposed to the development plan interrupted services and confronted church leaders as police in the industrial area stood nearby. Members, most of whom were excommunicated in April "for being too harsh on the leadership," said the project would only benefit a few people.
"We were banned from attending services because we want the plan to sell our church and convert it into a business center to be stopped. The police were brought here to arrest us. We are told that our names are not on the list of these. approved to worship here, "one of the church's worshipers told media.
To paint a picture of what some of Kenya's richest churches earn, in 2015 Christ is the Answer Ministries (CITAM) recorded Ksh 1.01 billion in income for the year following a government directive.
A year later, the number went much higher (Ksh 1.5 billion) and even much higher in 2017, with Ksh 1.83 billion listed in the income column of Kenya's richest church. (in terms of annual income).
Nairobi Chapel manufactured Ksh632.33M in 2017, Ksh434.5M in 2016 and Ksh440M in 2015 respectively.
All Saint Cathedral recorded Ksh 240.91 million in 2017, Ksh 222.95 in 2016 and Ksh 191 million in 2015.
These are just 3 of the richest churches in Kenya, with the country witnessing a proliferation of so-called Pentecostal churches in recent decades.
As of 2007, Kenya's Registrar General would have 6,740 pending church registration applications.
The pandemic has hit the church hard, with most of their sources of income such as schools also closed.
In an attempt to stay afloat, some of these churches had to start new business ventures.
A good example is the All Saint Cathedral located opposite the Intercontinental Hotel in Nairobi.
They have set up an underground car park for the general public that can accommodate more than 280 cars, equipped with a smartphone application. The average prices are 300 Ksh per day.
The partial reopening of churches (with restrictions on age and number of worshipers) was a welcome relief for churches in Kenya.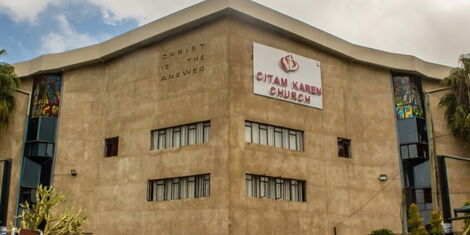 Citam Church in Karen, Nairobi
File