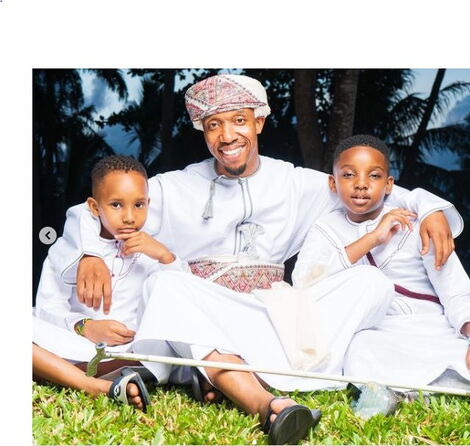 Famous Citizen TV news anchor Rashid Abdalla has organized a football tournament in Kwale County in which the winners will receive Ksh 1,000,000 in prize money.
In addition, the champions of this year's edition will also be treated to the Mombasa Continental Resort – a five-star hotel.
The tournament known as the "Rashid Abdalla Super Cup" started on Sunday, September 25 and is expected to reach the penultimate stage on Sunday, December 11, 2022.
Citizen TV News Anchor Rashid Abdalla and his sons.
Twitter
Abdalla stated that the main purpose of the tournament is to help young people stay away from drugs and other vices in the society.
"Football is the only thing that brings people together. I decided I had to find something that the youth will like.
"If the old generation comes together with the young for the tournament, they can encourage each other that it is possible to stay on the right track," he was quoted by SPM buzz.
According to the organizers, the competition, which attracted more than 38 clubs, has two main categories: the main category and the legend category.
The final of the legends category will be held on Saturday 10th December at Waa Primary School in Kwale County, while the main final will be held at the same venue the following day.
In addition to football, there will also be other forms of entertainment during the final day, including music from the melodious Modern Taarab Band.
Those who attend the event will also receive free medical treatment and monitoring, as well as treat themselves to a variety of delicious local coastal dishes.
In addition to hosting the tournament, the Swahili presenter along with his wife Lulu Hassan recently donated food to help families affected by drought in his home country.
The Kwale County Governor's press office announced that the television power couple donated rice, sugar, cornmeal and cooking oil to help underprivileged families.
"The two were able to donate 500 kg of sugar, 2,000 kg of rice, 77 bags of corn flour, 480 liters of cooking oil, 500 packets of tea leaves and 152 boxes of Indomie noodles," part of the statement read.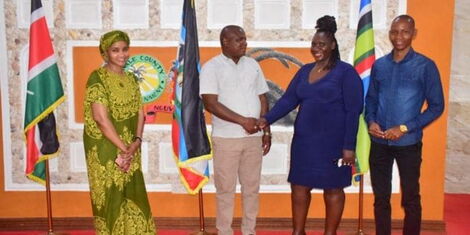 Lulu Hassan, Deputy Governor of Kwale Josphat Chirema, Loiza Kithi and a representative of the province at the Governor's office on Tuesday, November 15, 2022.
Governor's Press Service – Kwale
medicine