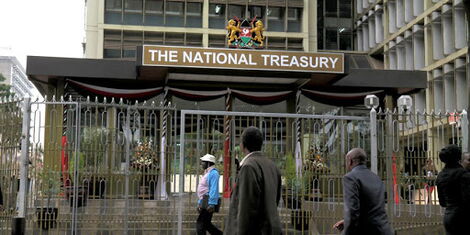 Finance Minister Ukur Yatani has credited former President Uhuru Kenyatta for his ingenuity in taking out loans during his second term in office.
Speak with citizen TV on Thursday, September 22, Yatani revealed that the former head of state chose not to take out commercial loans in the second term because they were expensive.
He revealed that the Uhuru government opted for multilateral loans that offered Kenya credit at a lower interest rate compared to commercial loans.
The National Treasury offices on Harambee Avenue, Nairobi
File
Yatani added that the loans were sustainable and beneficial to the citizens in the long run as they had better repayment plans.
"We borrow to realize development, but we do it sustainably and in the last four years we have never borrowed commercially. When we borrowed, we borrowed from the multilateral widow with an average interest rate of 0.02 percent and payable in 30/40 years . That's sustainable," he says.
Yatani added that Uhuru also chose to cut spending and generate more revenue, creating more finance for projects that boosted the economy after the global pandemic period.
The CS also defended Uhuru against attacks by allies of President William Ruto, who often accused the former president of borrowing too much, explaining that the loans were being used for important economic projects.
Notably, he insisted that Kenya's debt – estimated at Ksh8 trillion – was manageable.
"We must not put individuals or regimes in a bad light. Let's compare this to the development we have made for our people. Under the previous regime where I served and to date, our resources have been extremely good.
"Only last year we had GDP growth of 7.5 percent, which was the best in the last 15 years. Our revenue growth has passed the Ksh2 trillion. If you look at those parameters and the actual index of the economy, I am happy how others want to see it, that's their own business," he stated.
Yatani's statements come just hours after Ruto pleaded with global financial institutions to restructure debt for countries most affected by the pandemic.
"On behalf of Kenya, I therefore join other leaders who are calling on the World Bank, the International Monetary Fund and other multilateral lenders to extend pandemic-related debt relief to the hardest hit countries, especially those affected by the devastating combination of conflicts, climate change and pandemic," the president said during his inaugural address at the United Nations General Assembly (UNGA).
Ruto has been a fierce critic of Uhuru's lending policy over the past four years, arguing that the economy was underperforming.
"As Kenya Kwanza, we have a plan to deal with debt. First, we will put a brake on borrowing and on unbudgeted projects, because that is the main cause of our problems," Ruto said during the presidential debate in July.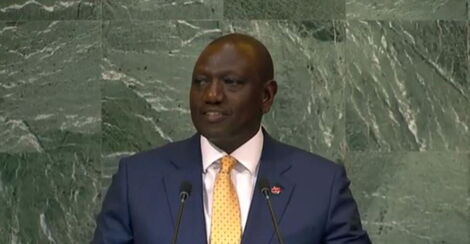 President William Ruto delivers his speech at the 77th session of the UN General Assembly in New York, USA on September 21, 2022.
Twitter
William Ruto