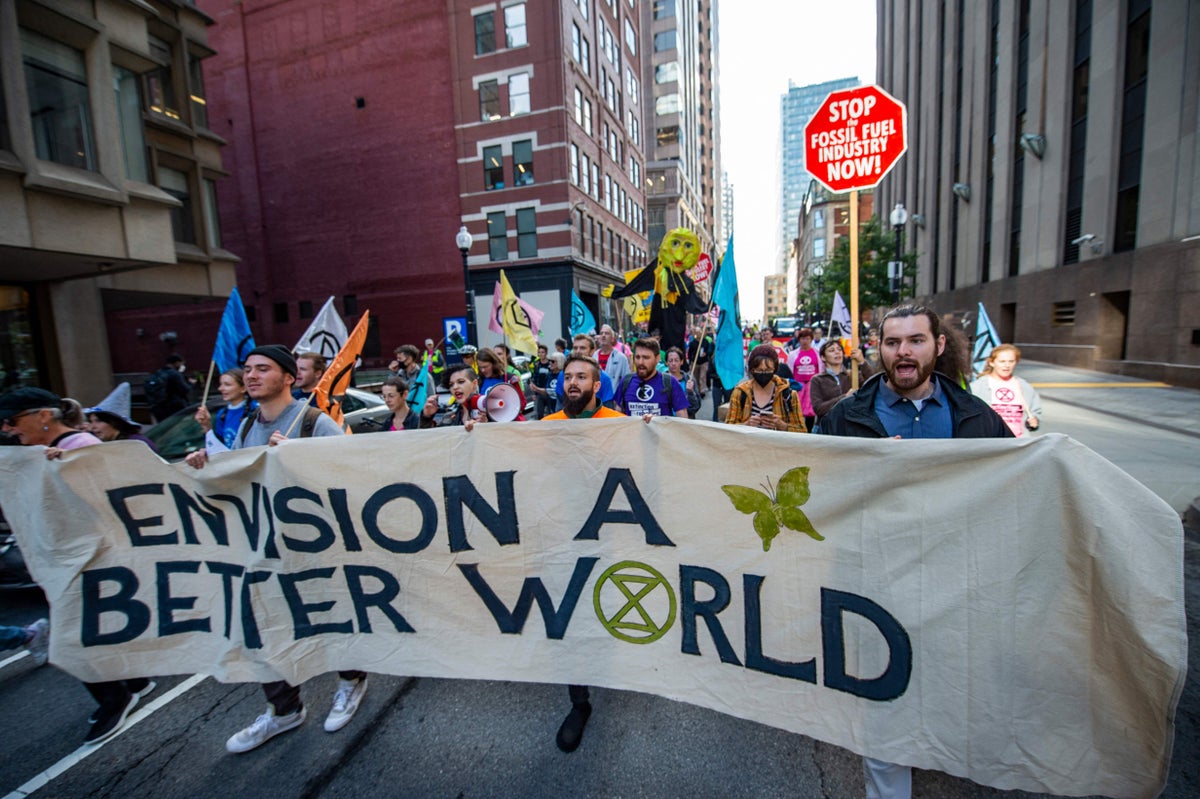 People protesting the climate crisis have been arrested in Boston after blocking traffic during Wednesday morning's commute.
Five people were arrested for blocking access to Interstate 93, Massachusetts State Police Posted Twitter, an important traffic route through the heart of the city. State police confirmed the five arrests, and that they seized barrels that could have been used by protesters to form a roadblock, in a statement emailed to TBEN.
Boston Police Department also said: that officers were responding to protests in the city and that traffic on Seaport Boulevard and Atlantic Avenue was being diverted.
The group behind the protests, Extinction Rebellion Boston (XR Boston), posted an image to Facebook that read, "We're sorry."
"We understand that we interrupted your life today and we know that your life is important," the post continued. "That's why we fight to protect it, and all its lives, before we run out of time."
Photos and videos posted to XR Boston's Twitter account show protesters marching through the streets in fanfare, blocking traffic near downtown.
"Hey, hey, hey, fossil fuels have to go," the protesters chanted.
TBEN Boston reported that a total of 15 people had been arrested. TBEN has contacted Boston Police and Extinction Rebellion Boston for comment.
The climate activist group's Facebook post also called on Massachusetts to stop building new fossil fuel infrastructure, saying that "conventional" advocacy methods, such as writing letters to Congress and petitions, have failed.
"Nonviolent disruptive action is the only tool we have left to force our governments into action," the message read.
In a statement obtained byBoston.comXR Boston said the sites of the traffic jams were chosen to "clog Boston's central artery to prevent workers from entering the financial district and seaport."
The Massachusetts Department of Transportation withdrew the a notice on Twitter Tuesday night that protests could disrupt traffic while commuting.
The Boston Globe reported that the protesters at one point sang a climate parody of "The Battle Hymn of the Republic," an American Civil War song.
The action is part of a "week of rebellion" organized by XR Boston, with events and protests planned throughout the week.
Many other climate groups are holding marches, rallies and protests around the world this week as the United Nations General Assembly meets in New York.