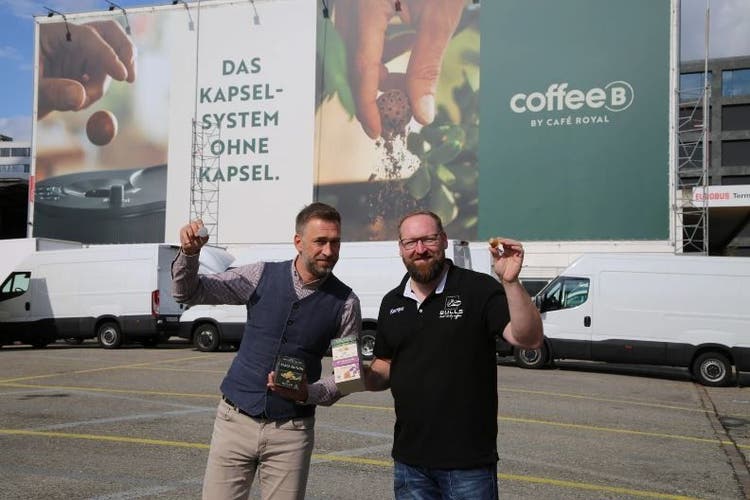 Schinznach

Aargau coffee capsule manufacturer: "We had the Migros idea first"
Coffee capsules create tons of waste every year. Migros wants to counteract this – with its biodegradable CoffeeB product. But the idea is not that new, according to the Swiss coffee capsule manufacturer Ole Bull from Schinznach.
A guarantee for the hype of a new product in 2022 is the word "sustainable". Anyone who can advertise with these letters hits the nerve of the times. And gets a lot of attention. Migros must have thought the same thing when it recently presented its self-proclaimed "biggest product innovation in history".
It is said to be the world's first coffee capsule system without capsules. Fully compostable. Therefore sustainable. Migros promises to "radically change the coffee industry" with CoffeeB, as the press release states. Fabrice Zumbrunnen, President of the General Management of the Federation of Migros Cooperatives, even emphasized: "With CoffeeB, Migros is combining what has not been possible before: a full taste experience, convenience and no waste." In summary: Migros are the first.
Ole Bull, owner of Bulls Coffee, sees things differently. He says: "It's cool that Migros focuses on sustainability when it comes to coffee. But they are definitely not the first to do so. We've had the idea of ​​compostable coffee capsules for a long time." Bull and his company have been putting everything on the sustainability map since November 2021. His product: wooden coffee capsules.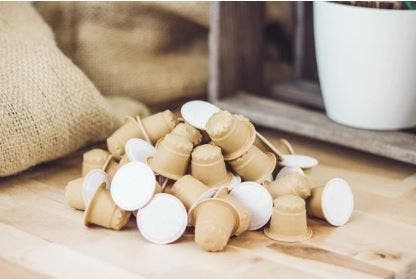 Bull is particularly proud of this invention: "Our compostable Nespresso-compatible capsules are made from plant materials such as untreated wood waste, such as sawdust." His capsules consist of two parts: a lid made of 100 percent cellulose fiber and a base made of FSC-certified wood. "Our capsules can be easily composted at home in the garden or in the kitchen and are a great contribution to protecting the environment," explains Marco Fritsche. The TV presenter is a partner and brand ambassador at Bulls Coffee.
Already 400'000 pieces delivered
In contrast to Migros, the Bulls wooden capsules came onto the market last November. In the first week he already sold 40,000 capsules. Over 400,000 units have now been delivered – all in Switzerland. "Since this summer we can also be found in 880 branches of Edeka, Rewe and Hieber's Freshness Center in Germany," says Ole Bull happily. Only in his home country does the wholesale trade not work as he would like it to.
"Volg and Coop have informed us that they see no market for our compostable capsules," explains Bull. And this despite the fact that Bull's coffee capsules can already be found in some regional Volg branches. "If they're not just sold out again," says Ole Bull. But he hasn't given up hope of launching his capsules in Switzerland.
His strategy: Bull makes the wooden capsules available to Swiss roasters so that they can fill their own coffee. 32 roasting companies are now using the wooden capsules for their coffee varieties. They even pre-ordered 1.5 million capsules for next year. In addition, Bulls Coffee is in talks with Alnatura: "This partnership would be my dream because our values ​​completely match theirs".
Coffee entrepreneur Ole Bull explains how the capsules are made and what makes their contents special.
Gülpinar Günes
As far as a listing with Migros is concerned, things look more difficult. «We had invited Migros to get to know our product – without success. We also commented on a Facebook post from the official CoffeeB page and asked again whether we could present our wooden capsules. The whole post was deleted shortly afterwards, »explains Ole Bull.
Migros reacts to criticism
Nonetheless, the Bulls Coffee owner is excited about the launch of the CoffeeB product. Because: "Migros spends millions on the development of a sustainable coffee system. This clearly shows that wholesalers do see potential in biodegradable coffee capsules," says Ole Bull with conviction.
When asked about Bull's criticism, Migros said: "There are actually many different degradable capsules. But none is like CoffeeB. The Coffee Ball is not a capsule and does not have a "solid body" that protects the ball." Migros therefore wants to "concentrate fully on establishing the new, innovative system". The media office announced the deleted Facebook post: "No one has deleted a comment from Migros."