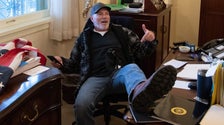 The Jan. 6, 2021, Capitol rioter, notorious for resting his feet on former House Speaker Nancy Pelosi's desk and leaving her a rude message, testified in his criminal trial Thursday, and he regrets it.
Richard "Bigo" Barnett told federal court jurors that he wished he had never attended the meeting, nor should he have stormed the Capitol afterwards, for which he has received eight charges.
"I shouldn't have put my feet up on the desk," the 62-year-old Arkansas resident admitted. "At the time I thought it was funny."
He also apologized for leaving an "annoying note" on the desk of the House speaker that read, "Hey Nancy, Bigo was here" and called her a "biatch."
The apology, however, failed to satisfy prosecutors, who portrayed Barnett as having a fundamental lack of civic pride despite proclaiming himself to be a lover of the US Constitution.
"Do you like the Constitution?" the prosecutor opened. "Love it!" Barnett responded.
"First Amendment?" the prosecutor asked. "Yes," Barnett said. "Second Amendment?" continued the prosecutor. "Yes," Barnett said. "Love the Third Amendment?" the prosecutor asked. "Yes," said Barnett. "What is the Third Amendment?" the prosecutor insisted. Then, after a pause, Barnett admitted, "I don't know."
(The Third Amendment prohibits the federal government from using private civilian housing to house soldiers without the owners' consent.)
Pelosi spoke about Barnett's behavior in a January 6 interview last year, saying he "disrespected the Constitution of the United States" and engaged in behavior that he will struggle to explain to his children.
In a previous lawsuit, Barnett's attorney tried to argue that referring to Pelosi as a "biatch" should earn him kudos, claiming that the term "is a slang and less offensive word for 'bitch.' "