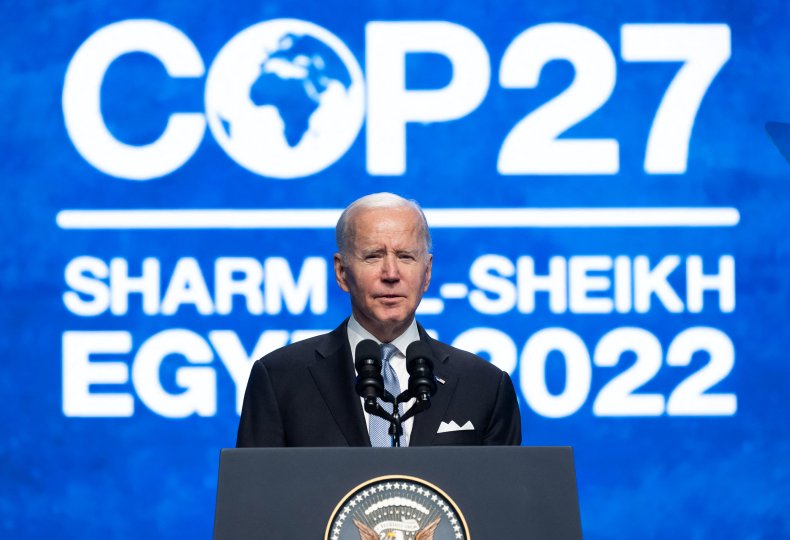 World leaders must focus more on controlling fossil fuel demand if they want to prevent devastating global warming, a new report says.
COP27, a United Nations climate conference, is currently underway in the Egyptian resort of Sharm El-Sheikh.
President Biden attended Friday's conference, where he argued that action to contain climate change is "a duty and responsibility of global leadership."
However, according to a report by the Danish engineering firm Danfoss, the world needs to pay more attention to rising energy demand if it is to limit global warming to 1.5 degrees Celsius (35 degrees Fahrenheit), as required by the Paris climate accord of. 2015.
The report, titled 'The neglected demand side of the green equation,' praises the growth of clean renewables, but argues that humanity should also focus more on managing demand as populations around the world continue to grow.
Speak with News week Jürgen Fischer, president of climate solutions at Danfoss, said: "In short, energy efficiency and renewable energies must go hand in hand. We are seeing a massive expansion of renewable energy. This is indeed needed and we need more.
"But if we don't simultaneously pay attention to the demand side of the green equation and massively increase energy efficiency, building out renewables will not be enough.
"As US President Biden said at COP26 in Glasgow, the eyes of history are watching. COP27 is a make or break moment for global action on global climate change. The world is still not on track to tackle global warming within the 1.5C target .
"Governments have made headlines with mid-century goals, but they are struggling to a great extent with implementing the immediate solutions we have. It is time to act, take action and drive energy efficiency in the implement the law."
The report says man-made global warming has reached about 1.2 degrees above pre-industrial levels, and with current policies, warming will be around 2.8 degrees by the end of the century.
The Danfoss report focuses in particular on energy consumption for refrigeration, noting that the International Energy Agency expects the number of air conditioning units to increase from less than 20,000 million in 2015 to more than 50,000 million by 2050.
Much of this growth is expected to occur in emerging economies such as China and India, with the report noting that global warming itself is likely to increase demand for air conditioning units.
Fischer said: "Individual air conditioners are not the only solution to provide cooling.
"District-based approaches can offer a very attractive alternative that does not get enough attention, although it is more efficient, takes up less space and avoids so-called urban heat islands, a side effect caused by the outdoor units of individual air conditioners."
According to the report, the world could nearly halve global energy consumption for refrigeration simply by choosing efficient options, with the energy performance of air conditioning
units range up to 70%.
In Europe, climate activists have targeted artworks in protests, such as two Just Stop Oil activists who threw tomato soup over a Vincent van Gogh painting in London's National Gallery and then stuck themselves to the frame.
Earlier this week, podcaster Joe Rogan joked that the activists should be sent to "work in a coal mine for a year."
There is growing fear of damage caused by the rapidly increasing thawing of permafrost on the Himalayan Qinghai-Tibet Plateau, an area about five times the size of France.