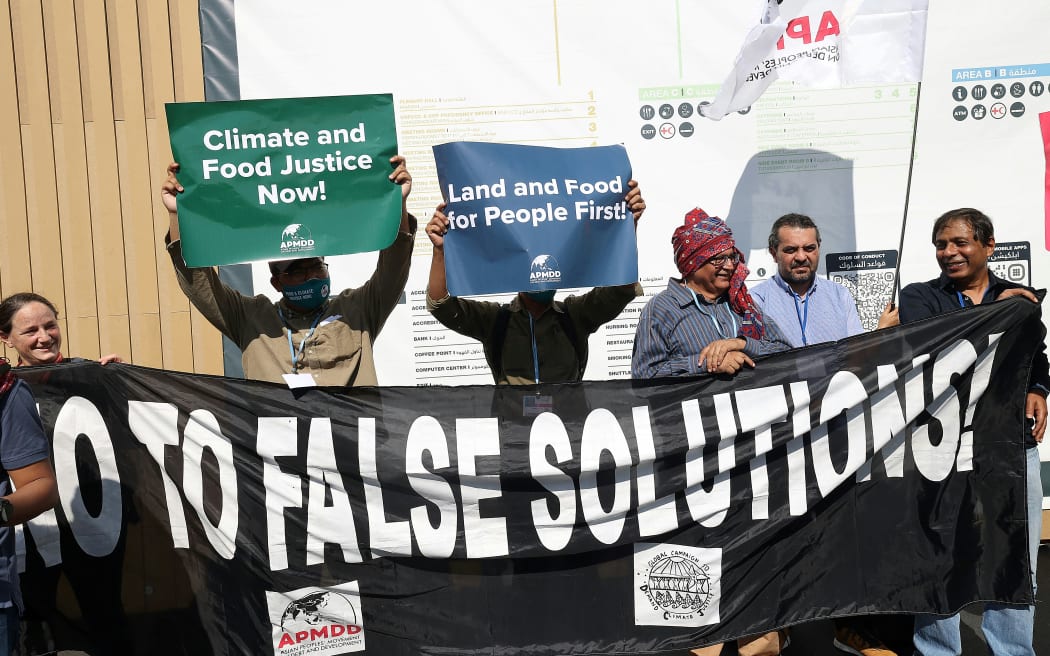 New Zealand has moved up a few places in international climate action rankings, but it has also been awarded a 'fossil of the day' award at COP27.
Climate Change Secretary James Shaw met with US special envoy for climate John Kerry at the annual UN climate conference.
The pair discussed the controversial topic of payment by developed countries to poorer countries for the loss and damage already caused by climate change.
It has dominated discussion at this year's COP and has previously been held back by the US and other rich countries from even being on the agenda.
Shaw and Kerry also discussed involvement in the Pacific.
NZ is awarded the Fossil of the Day award
Aotearoa has been awarded the 'Fossil of the Day' award at COP for the second year in a row.
NZ gets the top "fossil of the day" award #COP27for not support a Loss & Damage mechanism. No, @jacindaardern this is not what "stand with the pacific" looks like. The Pacific calls for a mechanism: @jamespeshaw I should support them here in Sharm https://t.co/CYAM0aQ2dU pic.twitter.com/arDnDbJr6X

— Coal Action Network Aotearoa (@coalaction) November 14, 2022
Climate Action Network International said this was because it believed New Zealand negotiators were not in favor of setting up a separate funding pool for loss and damage overnight.
It is something that the Pacific countries have been asking for.
Greenpeace climate spokeswoman Christine Rose said it was an embarrassing form of recognition on the world stage.
New Zealand negotiators said more work was needed on the details of how a new fund would work.
"Setting up a fund without certainty about what that means would cost a lot
levels of confidence that we have a shared understanding of what we are working on,
and how," said the negotiators.
"Listening to the interventions, it seems we don't have this.
"NZ has previously said we think this is urgent. We have pledged funds this week
underline that point. But we also think we should do this right.
"At this COP, we have the opportunity to move towards the shared understanding we have
need by agreeing on some principles that will ensure that a fund is as useful as possible."
Rose said this was deliberate obstruction because we didn't live in a perfect world.
"Striving for perfection and capturing every detail… [is] stand in the way of taking the essential first steps forward to get this funding mechanism in place."
Earlier this week, the government announced it was setting aside $20 million of money already allocated for loss and damage.
Rose said it is disappointing that New Zealand has not followed up on this announcement with more action.
Shaw said the $20 million is a sign of commitment and a desire to move forward in this area.
"We want to make sure we don't rule out options regarding the precise arrangements for how loss and damage financing is provided, as small countries like those in the Pacific can find working with the big global funds quite difficult and frustrating.
"We want to make sure that regional and bilateral arrangements are also encouraged."
He said our focus should now be on more rich countries making financial commitments.
Foreign Minister Nanaia Mahuta previously said she was not against a centralized fund, but also supported a wide range of funding schemes.
NZ moves from 'low' to 'medium' ranked country on climate action
A climate campaigner said New Zealand's rise of a few places in the climate action rankings was a step forward, but hardly worth celebrating.
The Climate Change Performance Index is released by climate NGOs and pressure groups to increase the transparency of the country's climate change policies.
New Zealand is now ranked 33rd and has moved from a 'low' to a 'medium' performing country.
David Tong, Oil Change International's global industry campaign manager, said Aotearoa was one of the largest emitters of climate gases per person in the world.
"If you look at the comments from the expert reviewers, the feedback is really that it's failing to address those agricultural emissions.
"And where the emission response plan does not match [the goal to keep warming below 1.5 degrees of warming]despite the ambitions of the Zero Carbon Act."
David Tong said that if New Zealand does not make progress on agricultural emissions, it could face protectionist trade sanctions from the EU.
Shaw to give a nighttime speech at COP27
James Shaw arrived for the second week of the UN climate talks.
Tomorrow, Shaw will attend a ministerial roundtable meeting with other Pacific leaders and give a plenary address with New Zealand's national statement.
Negotiators' technical work ends tomorrow, with ministers taking over talks to reach solutions by Friday (NZ time).
About 13 issues discussed in the first week remain open, which "might be a record," said a former deputy.