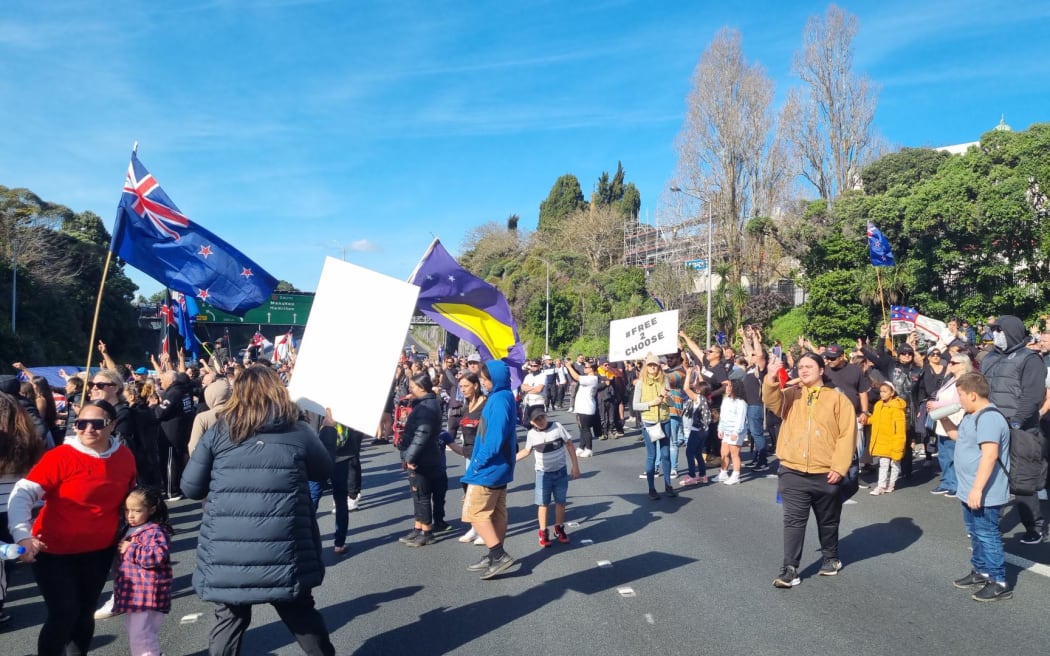 The Freedom and Rights Coalition has been warned that enforcement action could be taken if it goes ahead with an event at Auckland Domain this weekend.
On Tuesday evening, the Brian Tamaki-affiliated protest group had failed to request permission from the Auckland Council for its "Kiwi Patriot Day and March," which will be held on Saturday.
It comes two weeks after a similar protest that eventually ended up on a highway, closing it to traffic.
Social media posts advertise things like live music, food trucks and a farmers market — activities the council said needed a permit under its 2022 Public Trading, Events and Filming Bylaw.
The coalition's social media also stated that a "new umbrella political party announcement" would be forthcoming.
Claudia Wyss, Auckland Council's director of customer and community services, sent a letter to the coalition on Tuesday, which RNZ has received.
Wyss warned that event and trade permits would be required for the group's plans to "operate legally" as the council felt it did not fall within the exceptions of the statutes.
It was not until Tuesday evening that no permit applications had been made, the municipality confirms to RNZ.
Wyss also warned organizers that the council could demand costs to repair any damage.
"We advise you that if there is any damage to Auckland Council property caused by vendors, event visitors or vehicles driving or parking on the grounds of the grounds, we will consider the organizers responsible for such damage as this is a foreseeable outcome of the meeting."
The council would cordon off the Cenotaph and Court of Honour, in front of the Auckland War Museum, because it was hallowed ground.
In a statement, Wyss told RNZ the council respected people's right to peaceful protest, but there were some concerns: "that the proposed activity could lead to damage to the property, interruption of public enjoyment, access to Auckland To prevent museum and disrupt planned sports activities. activities".
"The council is also concerned about the health risks of the proposed event, given the high level of Covid-19 in the community," Wyss said.
A police spokesman said police had communicated with organizers to "discuss possible routes and plans".
"We will monitor and respond to the situation accordingly, to ensure public safety and to ensure that disturbance to the public is kept to a minimum."
Police did not answer questions about the ongoing nature of the group's protests.
The spokesman confirmed that the investigation is still ongoing and that no charges have been filed, after about 1,000 protesters disrupted traffic during a march on 23 July by marching onto Auckland's southern highway.
The coalition has been contacted for comment.