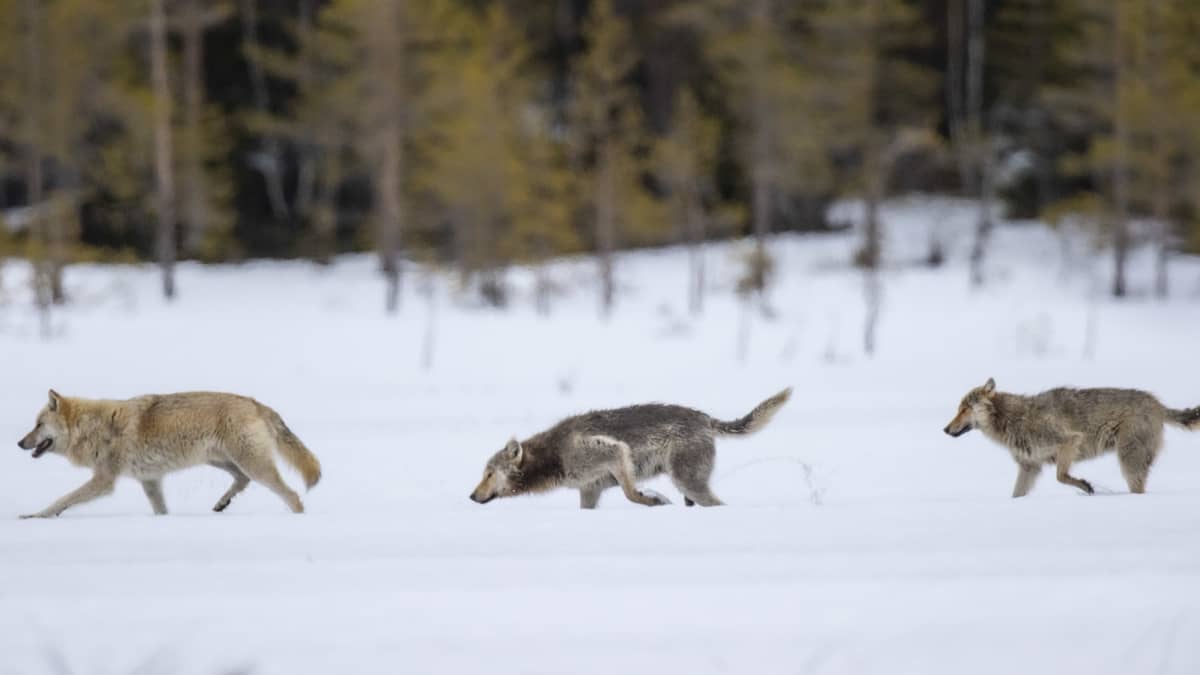 The Administrative Court of Northern Finland ruled that permits issued to shoot 10 wolves were unjustified. The permits have been suspended and have since expired.
Northern Finland's administrative court last year retroactively revoked permits that would have allowed hunters to kill 10 wolves.
Last December, the Finnish Wildlife Agency granted exceptional permits (known as derogation permits) to shoot wolves in Kuhmo, near the Russian border, and Liminka, just south of Oulu.
The court ruled in an interim judgment that the permits had been wrongly issued and blocked their implementation. The permits had previously been put on hold due to legal complaints.
The permit for the Saunajärvi area covered an entire pack of eight wolves, while the permit for the Liminka-Temmes area would have allowed the shooting of two individuals.
The areas are some 300 km apart, with Kuhmo in the Kainuu region and the towns of Liminka and Temmes in North Ostrobothnia.
The permits were issued on a "population conservation" basis, but the court stated that there was no valid reason for granting them.
In June, Finland's Natural Resources Institute (Luke) reported that the country's wolf population had not grown last year, estimating it at about 290 individuals.
Precise numbers are impossible, as wolves — including members of the Saunalahti pack — move freely across the Russian border.
Applicant: Process "frustrating"
"You could almost foresee this [decision]' said the permit applicant Timo Klemettia hunter from Kuhmo who applied for the wolf pack permit.
Klemetti, an entrepreneur and member of the Finnish party on the Kuhmo city council, said dogs were killed by wolves in the area this fall. He said he would reapply for the permit "if it becomes available … although it is frustrating".
The permits sparked a heated debate, with several hunters in the areas reporting death threats.
The wolf hunt for population management reasons was allowed in principle by the Ministry of Agriculture and Forestry last December. At that time the Ministry was headed by Minister Jari Leppa from the rural Center Party, which has overseen the ministry since 2015.
The ordinance allowed exemption permits to be issued for the killing of up to 20 wolves for population reasons. Prior to this decision, such permits could only be issued to clear certain persons deemed to be causing damage.
Later in December, the Finnish Wildlife Agency issued exemption permits to kill 18 wolves. None of these permits have been used pending complaints against them – and in any case, they have all now expired.
In 2007, the Court of Justice of the European Communities ruled that wolves could no longer be preemptively killed in Finland, and in 2019 ruled that derogation permits to hunt wolves for population management purposes must be based on "rigorous and unequivocal scientific data". .
Leppä criticized the 2019 ruling as "a major setback".