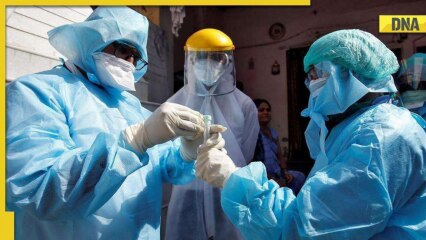 Covid-19: Bharat Biotech's iNCOVACC nasal vaccine hits the market from February; know prices, suitability
Hyderabad-based Bharat Biotech's intranasal heterologous booster dose is likely to hit the market only in the first week of February, sources told ANI. Recently, Bharat biotech announced iNCOVACC (BBV154) as a booster dose in the country.
It will initially be made available in private settings and can be administered to anyone over the age of 18. It will be available on the CoWin app. Due to its enormous potential for immunization, the nasal route has excellent potential for vaccination.
Earlier this month, Bharat Biotech received approval from the Central Drugs Standards Control Organization (CDSCO) to use heterologous booster doses of iNCOVACC. The vaccine is still not available on CoWin.
According to the company, the price of iNCOVACC will be Rs 900 for the private market and Rs 325 for supplies to the Government of India and state governments.
(Read also: Credit card: know 5 types of credit card charges and fines; how to avoid them)
"iNCOVACC is a recombinant replication-deficient adenovirus vector vaccine containing a pre-fusion stabilized SARS-CoV-2 spike protein. This vaccine candidate has been evaluated in phase I, II and III clinical trials with successful results. iNCOVACC is specific formulated to allow intranasal delivery via nasal drops. The nasal delivery system has been designed and developed to be cost effective in low and middle income countries." reads an official statement.
Dr. Krishna Ella, Executive Chairman of Bharat Biotech, said, "We have achieved the goals we set for ourselves during this pandemic. We have developed COVAXIN and iNCOVACC, two COVID vaccines from two different platforms, with two different delivery systems."
"The vectorized intranasal delivery platform gives us the ability for rapid product development, scale-up, and convenient and painless immunization during public health emergencies and pandemics. We thank the Ministry of Health, CDSCO, Dept of Biotechnology, Govt of India, Technology Development Board and Washington University, St. Louis for their support and guidance."
As a needleless vaccination, iNCOVACC from Bharat Biotech will be the first booster dose in India.
(with input from ANI)