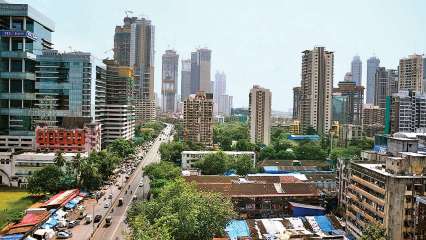 The Covid-19 pandemic has left all sectors of the economy, including the housing industry, in distress. With real estate developers, owners are also the most affected.
The government of Maharashtra helped developers by reducing the stamp duty on August 26, 2020.
For apartment owners in Mumbai, however, things have only gone from bad to worse as rentals continue to plummet.
Even as the foreclosure began to ease in June, rents in Mumbai were found to have been reduced by 15 to 20 percent.
This is all because of the fact that the pandemic has placed severe financial conditions on the general public, resulting in job losses or sharp pay cuts.
This has led to non-payments or reduced rent payments by many tenants. The flexible and smart landlords, however, have agreed to renegotiate lower rents for a limited period with their existing tenants.
Those who remained stubborn and abandoned their tenants paid dearly for the consequences.
In a circular issued in April, Additional Chief Secretary (Housing Department) Sanjay Kumar also urged landlords not to kick tenants out of their homes if they did not pay rent during the current period.
The official noted that financial transactions had not taken place in markets and factories due to the lockdown, which impacted people's incomes and employment.
A combination of working from home, job loss as well as a moderate economic environment subsequently crushed rental demand in India's commercial capital.
The volume of registrations between January and October 2020 is down 34% compared to last year.
Money Control carried out a detailed check with brokers in town to get a clear picture of the scenario. And after several interactions over the past few weeks, things were clear.
According to the Money Control report, as of the first week of November, rents reported by landlords were down 25% from pre-Covid-19 levels to a median level in Mumbai.
In the case of high-end properties, quotes have fallen deeper between 30 and 40%
According to one example, data from real estate aggregator Zapkey shows that Lodha's The Park project saw the prices of executed rental transactions rise from over 220,000 INR in December 2019 to levels of 140,000 INR in October and November. 2020. Rates are for apartments with the same index area of ​​1,526 square feet.
A detailed investigation suggests that some places are more affected than others. Money Control reveals that the eastern suburbs of Powai and Chandivali are the hardest hit.
In places like the suburb of Bandra which had often seen landlords take tenants for granted, this is a late correction. In fairness, the landlord's treatment of tenants is not just a Bandra specific issue, but a Mumbai issue.
A NoBroker survey last year found that more renters in Mumbai had moved out of their apartments due to an " uncooperative landlord " than renters in other metropolitan cities. 13% of renters in Mumbai moved because of this factor, compared to 4% in Hyderabad, 7% in Bangalore, 8% in Pune and 11% in Chennai.
It's hard to predict how much that can go down from here, but it's reasonable to expect that until March 2021 it will only get worse.
Most large companies advertised working from home at least until this time. With each successive month of vacation, anxiety will only increase.
.