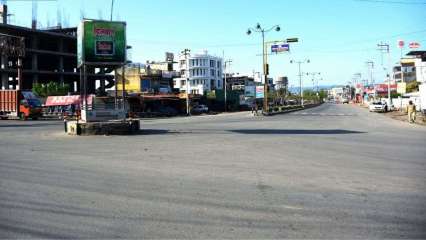 For the fourth day in a row, India has recorded less than 30,000 new daily cases of COVID-19. India reported 27,176 new cases of COVID-19 in the past 24 hours on Wednesday, bringing the country's total to 33,316,755, according to data from the Union's Ministry of Health and Family Welfare.
The death toll climbed further to 4,443,497 with 284 daily deaths, according to ministry data. In the last 24 hours, the number of active cases in the country has decreased by 11,120. The number of active cases stands at 3,51,087. They represent 1.05% of the total cases.
Meanwhile, an additional 38,012 people have been released in the past 24 hours, bringing the total number of recoveries in the country to 32,52,2171. The weekly positivity rate is 2.00%, or less than 3% for the last 82 days. The 1.69% daily positivity rate is less than 3% for the past 16 days.
Mizoram witnessed 1,502 cases of COVID-19 on Tuesday, the fourth highest in the country after Kerala (15,876), Maharashtra (3,530) and Tamil Nadu (1,591). As part of the national immunization program, 75.89 crore vaccine doses have been administered to date.
State-level COVID-19 cases
Kerala has reported 15,876 cases of COVID-19 and the number of active cases in the state has fallen below two lakh.
Kerala's test positivity rate (TPR) fell to 15.12% from 19%, reported last week.
Maharashtra has seen an increase in COVID-19 cases compared to the number of cases on Monday.
The state reported 3,530 new cases on Tuesday while the state reported 2,740 cases on Monday.
The financial capital Mumbai reported 724 new cases on Tuesday.
Delhi reported 38 new cases of COVID-19 on Tuesday.
The capital has so far recorded only one death from the infection in September.
There are 400 active cases in Delhi, up from 377 the day before.
98 patients are in home isolation, a slight increase from 97 a day ago.
Dehradun curfew extended
The government of Uttarakhand extended the COVID-19 curfew in Dehradun district until 6 a.m. on September 21.
The state government has allowed tourists to visit Mussoorie on weekends, but they must provide negative test reports 72 hours before arrival.
District Magistrate R Rajesh Kumar said that only tourists who have registered online at Dehradun Smart City Portal will be allowed.
In order to prevent COVID-19, no more than 15,000 tourists will be allowed in hotels and other establishments on weekends.
Vehicle parking will not be permitted after 5:00 p.m. on Mall Road in Mussoorie.
It is compulsory for anyone to wear a mask, handkerchief or scarf when venturing out of hotels, and spitting in a public place will be prohibited.
The district magistrate said that if the orders were violated, 500 to 1,000 rupees would be charged as a penalty.
.