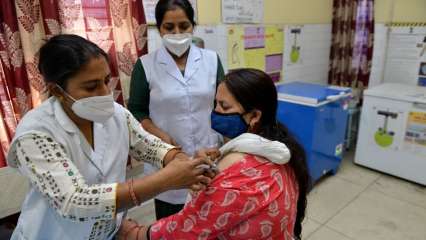 To speed up the vaccination campaign across the country, the Union Ministry of Health has authorized vaccination sessions in public and private workplaces. Such workplace vaccination centers could be launched in states and union territories from Sunday, the union's health ministry said on April 7.
With the announcement, several questions arise among people regarding vaccination in their workplace. Here's all you need to know.
Can I get vaccinated at my workplace on April 11?
Yes, only if you are over 45 years old. The government launched the third phase of the vaccination campaign on April 1 and anyone born before January 1, 1977 is eligible for the vaccine. The new notification released by the Ministry of Health specifies that "workplace employees over 45 years of age or older will be eligible for workplace vaccination."
If I am eligible for vaccination, can my relatives also receive the vaccine at my workplace?
No, the government mentioned that "no foreigner, including eligible family members, will be allowed to be vaccinated at the Covid Vaccination Center (CVC) in the workplace."
How is the government's decision beneficial?
According to the government, a large part of the population over the age of 45 to 59 works in the public and private sectors. This will save time for people in the eligible age group and will not have to travel to vaccination centers.
When will the workplace vaccination campaign start?
It is likely to be launched in all states / union territories from April 11. The center called on states to discuss essential campaign requirements with the public and private sectors.
Will my workplace surely have a vaccination center?
Not necessarily. Vaccination will only be carried out in offices where there are 100 voluntary and eligible beneficiaries. This is to ensure that the vaccination is not wasted.
Can I trust the safety of this workplace vaccination campaign?
Yes. In government offices it will be linked to the nearest public hospital, while in private it will be linked to the nearest private hospital. These hospitals will ensure that the entire reader's process runs smoothly.
How will a workplace be identified?
A district working group chaired by the district magistrate and an urban working group chaired by the municipal commissioner will administer the process. Senior managers in the workplace will be selected as the nodal officer to coordinate with the respective authorities. Its job will be to ensure the required infrastructure and the proper registration of beneficiaries.
Where do I register for the jab?
Beneficiaries can register on the CoWIN platform. You can also register at the workplace on the day of the journey.
Does my workplace also need to be registered?
Yes, it is mandatory for eligible workplaces to be registered on the CoWIN platform. The full name of the organization should be mentioned and not abbreviated. The CVC consists of three parts: waiting, vaccination and observation rooms. The centers must have an appropriate infrastructure and not be set up inside a tent.
.