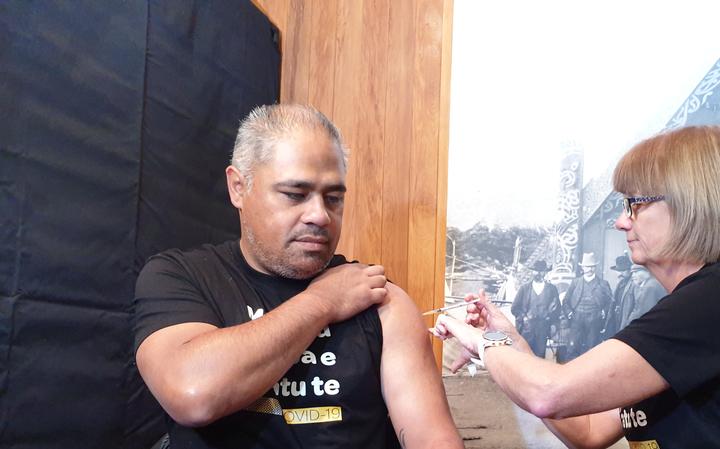 Chief Health Officer Ashley Bloomfield said all New Zealand district health boards are now running vaccination programs and the number of vaccines is expected to increase further..
He was speaking during the update of the Covid-19 vaccine, alongside the Associate Minister of Health, Peeni Henare.
Bloomfield indicates that 90,286 doses of the administered vaccine were given at midnight last night and that New Zealand is likely to hit the 100,000 mark in the coming days.
He says the number of vaccinations dropped over the Easter weekend and he expects 35,000 people to be vaccinated per week.
He says 147 adverse reactions to the vaccine have been recorded and three of those cases are considered serious. All of which involved some allergic reaction and no new safety concerns have been identified in New Zealand.
He says New Zealand has four advance purchase agreements with four different manufacturers and they are all still in place.
The next vaccine to be considered by health officials in New Zealand is the Jansen vaccine, he says, and they will meet next week.
He says potential disruption could arise with the delivery of Pfizer / BioNTech vaccines and that is why the other four agreements are still in place. However, he says there have been no signs of disturbance yet.
"We want to make sure we have more than one option available."
Henare received his first dose of Pfizer vaccine this morning at a clinic in Porirua.
He is one of many politicians with a health-based portfolio who have been urged to get vaccinated early, in a bid to build confidence in his safety.
Minister encourages Maori to follow his lead and get vaccinated against Covid-19, and has traveled the North Island to engage with Maori communities to educate and combat vaccine reluctance .
He said he was feeling great after the vaccination and was eager to continue advocating for the vaccine.
"I look forward to spreading the message around the vaccine and its effectiveness and supporting it in our communities."
Henare said the health ministry is in talks with 62 Maori healthcare providers about the $ 11 million in funding the government has allocated for a fair rollout of the vaccine for Maori.
He says that the leadership and communications of the iwi have been used to reach "as many of our people as possible".
Henare says his thoughts are with Minister Kiri Allan and his whānau. Allan publicly revealed yesterday that she has been diagnosed with stage three cervical cancer.
Health Minister Andrew Little, who also received his first Pfizer vaccine this morning, said this morning that around 6,000 people a day are being vaccinated and that number is expected to rise.
He hopes the number of vaccines will increase to around 10,000 per day by the end of the month.
Seven new cases at the border today, as February cluster closed – Bloomfield
There are no community cases of Covid-19 to report today, Bloomfield says. There are seven new cases in managed segregation.
The total number of active cases is 81.
Bloomfield also said the February Covid-19 cluster is now considered closed because 28 days have passed since the last case recovered with no further cases reported.
The total number of clusters was 15 community cases.
"It's great to reach this milestone."
Trans-Tasman bubble
Regarding travel without quarantine, Bloomfield says there are two challenges in Australia and New Zealand: preventing the virus from entering and vaccinating populations.
"Like New Zealand, Australia had the chance to prepare and roll out a vaccination program without having Covid-19 in our community.
Prime Minister Jacinda Ardern and Covid-19 Response Minister Chris Hipkins announced yesterday that non-quarantine round-trip travel between the two countries will begin in less than two weeks, starting April 19.
.