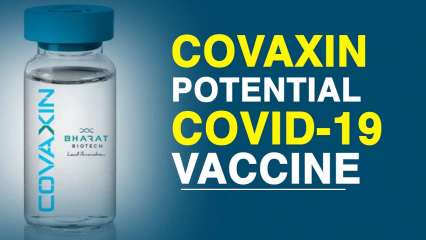 One of the main contenders in the race to manufacture the Covid-19 vaccine, Bharat Biotech International Ltd has refuted claims of failing to report side effects during its coronavirus vaccine trial in August.
The controversy revolves around the phase 1 trial in August 2020, when a patient was hospitalized after receiving a dose of the covid-19 vaccine Covaxin.
Reacting to media reports that the adverse event during Phase I trials was not reported by Bharat Biotech, the pharmaceutical giant confirmed the incident on Saturday and released the clarification.
In response to the allegations, the Hyderabad-based vaccine maker said the unwanted incident was reported by the company within 24 hours.
In a statement released on Saturday, Bharat Biotech said: " The adverse event in Phase I clinical trials in August 2020 was reported to CDSCO-DCGI, within 24 hours of onset and confirmation. "
The adverse event occurred in a 35-year-old participant without comorbidities, who was part of the phase 1 trials at a site in western India.
The participant was hospitalized with viral pneumonia a few days after receiving the vaccine. He was released after a week-long hospital stay.
According to Bharat Biotech, the adverse incident was fully investigated and the adverse event was found to be unrelated to the vaccine.
"All subject processing costs have been fully paid for by the sponsor, and the subject is safe," Bharat Biotech said.
In accordance with guidelines established by the Center, all adverse events should be reported to the site ethics committee, CDSCO-DCGI, Data Security Oversight Committee and sponsors.
It should be noted that Bharat Biotech and the ICMR are working on Covaxin, one of the indigenous vaccine candidates against the coronavirus.
The Central Organization for the Control of Pharmaceutical Standards (CDSCO) has also approved Bharat Biotech to launch phase III trials of the COVID-19 vaccine candidate.
Bharat Biotech is conducting three-step clinical trials on Covaxin, a novel fully inactivated coronavirus vaccine, in collaboration with the biologic research agency apex, the Indian Council for Medical Research.
Bharat Biotech is one of the few companies to conduct studies on human challenges at the University of Oxford, UK, while it also conducts other clinical trials in the US and UK .
"Bharat Biotech has supplied more than 4 billion doses to more than 80 countries, with an excellent safety record in vaccine development," he added.
.