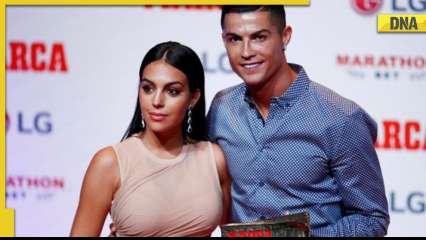 Ronaldo with his partner Georgina Rodriguez.
Cristiano Ronaldo sent shockwaves through the football world when he signed a two-and-a-half-year contract with Al Nassr last month. After leaving Manchester United, the superstar footballer headed to Saudi Arabia for his first venture in Asia. Reports suggest that Ronaldo will earn as much as €200 million during his time at Al-Nassr.
The global icon lives a lavish lifestyle in Saudi Arabia and receives VVIP treatment. According to a report in Mundo Deportivo, an amusement park in Riyadh was closed for two hours exclusively for Ronaldo and his family. The famous soccer player visited the theme park with his partner, Georgina Rodriguez, and their children, enjoying a private and luxurious experience.
Quality time with my loves pic.twitter.com/1kQk9aUkOs— Cristiano Ronaldo (@Cristiano) January 16, 2023
Ronaldo and his partner Georgina have been granted an exception to Saudi law that prohibits unmarried couples from living together and are now allowed to stay in the country together. Despite the usual sanctions that would be imposed on such a couple, the famous duo will be exempt from any punishment during their stay.
Ahead of his Al-Nassr debut, Ronaldo will take the field for the first time in Saudi Arabia, leading a combined team of Al-Nassr and Al-Hilal against PSG on January 19. Lionel Messi will be part of the PSG squad.
Ronaldo will remain in Saudi Arabia until May, when Al-Nassr's season comes to an end. The team has four matches scheduled for February, four for March, three for April and six for May, with Ronaldo expected to play a central role in each of these matches. With Al-Nassr currently at the top of the Saudi Pro League, Ronaldo will be hoping to make a lasting impression on his new team.
READ| Lionel Messi vs Cristiano Ronaldo match: Saudi billionaire offers over Rs 20 crore for ticket of epic clash