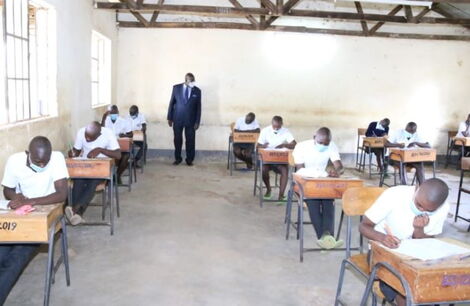 Education CS George Magoha has denied allegations that some former Education Department officials were involved in a fraud scheme involving ghost students and bogus schools.
Speaking to the press on Wednesday April 7, the CS refuted allegations that ghost students existed, noting that the Kenya National Examining Board (KNEC) had appropriate data on each student.
Magoha further explained that officials in his ministry regularly conduct counting exercises to determine the number of students.
"The best data is actually at KNEC, having worked there myself. Even in the ministry now, we have physically counted children, schools and teachers.
CS Magoha is supervising the KCSE exams at St Pauls Agenga School in Migori County on March 26, 2021.
Twitter
"I'm not going to respond to rumors. I don't think that's something we should be worried about. The whole government is there, if a child doesn't show up I remember going to get some. a 30 minutes after its failure. to appear, "said Magoha.
Three ODM deputies, Antony Oluoch from Mathare Mathare, Justus Kizito (Sinyalu) and Hassan Zuleikha (Kwale), have called for action against some education officials who embezzled up to 114 million shillings per l intermediary of ghost students.
The scandal was exposed by the Public Accounts Committee which reported that an office worker at an education office in Kakamega had set up a fake school for years.
"We want action. All those who have been in a decision-making position in times of emerging demands must be held accountable, no matter where they are today, "Kizito argued.
In their argument, lawmakers argued that there may be more ghost schools outside of the one recently discovered by the parliamentary committee.
"This is just one case of a school discovered in Kakamega. How many more schools are there where public money is diverted to ghost schools, and who are these dark people who have access to that account, disconnect that money and then the money is counted over the years as money? given for capitation and infrastructure? Oluoch asked.
Below is the video: