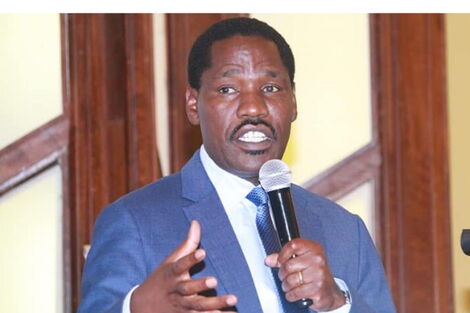 Agriculture Minister Peter Munya announced on Sunday July 31 that the state will crack down on millers who have hoarded their supplies and contributed to the growing corn shortage.
Speaking at the Azimio la Umoja One Kenya rally in Nandi Hills, the CS noted that the crackdown would begin on Monday, August 1.
He explained that his ministry had already conducted an assessment of the maize millers responsible for hiding the maize and thus ignored an earlier directive by President Uhuru Kenyatta to lower unga prices to Ksh100.
"We have lowered the price of flour, but there are some millers who are hoarding the product. We have started doing assessments where they hide it. We pay them money to lower the prices and they start to hide it.
Agriculture CS Peter Munya speaking at the National Agriculture Summit at Safari Park Hotel on Wednesday, February 26, 2020
Facebook
"Tomorrow we will take action against those millers so that in each shop the price is 100 Ksh as we agreed as it is a directive from the government," Munya said.
His announcement came at a time when supermarkets were hit by a shortage of supplies of the crucial staple foods consumed across the country.
Some outlets rationed the quantities that customers were allowed to buy in one go, while others required customers to buy cornmeal from the outlets in addition to other products.
On July 20, the head of state ordered all millers to lower the prices of maize flour to Ksh100 from the Ksh230 the product was sold for.
The president also suspended the import declaration fee (IDF) imposed on imported corn, as well as the railway development tax on it.
At the time, he blamed the rise in the election cycle, noting that the price in 2012 was Ksh70 for a 2kg package that skyrocketed to Ksh130. The same increase was seen in 2017 when the product rose to Ksh189.
"Every election in our country has caused an Unga crisis and sometimes it seems to have been manipulated. There is a clear trend between the way the price of Unga is rising and the pace during elections," Uhuru said during the election. time.
Soon after, supermarkets across the country saw a spike in customers seeking cheap cornmeal, forcing the retailers to ration the product. Customers were only able to purchase four packs at a time, a situation that has since deteriorated.
President Uhuru Kenyatta speaks at an event at State House Nairobi on June 14, 2022.
PSCU