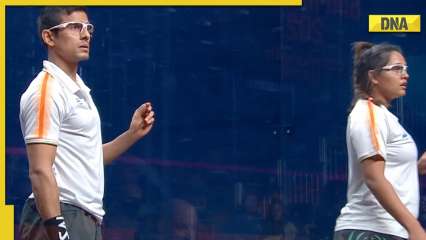 Vice captain Harmanpreet Singh hit a hat-trick when the Indian men's hockey team defeated Wales 4-1 in the final game in Pool B to qualify for the Commonwealth Games semi-finals on Thursday.
READ | CWG 2022: Boxer Sagar Makes His Way to Super Heavyweight Men's Semifinals, Secures Medal
Harmanpreet (19th, 20th, 40th minutes) converted two penalty corners and scored one from the spot, while Gurjant Singh scored a field goal for India in the 49th minute. Wales' only goal was scored by drag-flicker Gareth Furlong in the 55th minute from a dead game.
After the win, India was on track to top Pool B as they have a goal difference of 22 over England, who have another game against Canada.
The Indians had most of the ball in the first two quarters, but Wales put up a tough battle against their dream opponents, especially in the first 15 minutes.
HALF NEXT #Hockey FULL-TIME: The Indian Men's Hockey Team completes their group stage with 3 wins and 1 draw. We play the semi-final against New Zealand

India 4-1 Wales

Let's go guys!!! pic.twitter.com/PcCVwRZiU9— SAI Media (@Media_SAI) August 4, 2022
India relied on a quick interpass and made a few circle penetrations, but failed to create a clear chance, an eighth-minute penalty corner, which Varun Kumar failed to convert.
Wales also made some circles inside the Indian D and their best chance came when an unmarked shot from Carlson was saved by a dashing Sreejesh from a one-on-one situation.
After a barren first quarter, India delivered back-to-back penalty corners in the 18th minute, the second of which was thrown into the goal by the ever-reliable Harmanpreet with a low, powerful ground movement.
A minute later, India secured another penalty corner and Harmanpreet showed his bag of tricks with another perfect conversion to give his side a 2-0 lead at halftime.
Two minutes after the change of half, India secured their fifth penalty corner, but lost the opportunity.
In the 40th minute, the bronze medalists of the Tokyo Olympics earned back-to-back penalty corners, the second of which resulted in a penalty shot, and Harmanpreet made no mistake from the spot.
READ | CWG 2022: Jaismine's win over Troy Garton secures India's medal in women's lightweight category
Minutes later, Akashdeep Singh's swerve from close range was stopped by Wales goalkeeper Tobias Reynolds-Cotterill. An agile Gurjant made it 4-0 two minutes later when he perfectly rotated the front of his stick to block Samsher Singh's high pass.
Wales then quickly secured two penalty corners and Furlong took advantage of the second opportunity. A minute before the final horn, India deserved another piece, but Harmanpreet was denied by the Wales defence.
Squash:
Top-class teams Dipika Pallikal and Saurav Ghosal sailed into the mixed doubles quarter-finals with a clinical 11-8, 11-4 win over Wales pair of Emily Whitlock and Pater Creed at the Commonwealth Games here on Thursday.
The combination of Pallikal's powerful forehand and Ghosal's skillful backhand proved too good for the Welsh duo.
The first game was intensely fought with teams that were 6-6. With four players on the field, the umpires were also busy reviewing calls for no let and stroke.
Trailing India 3-4, the opponent got a blow and Pallikal didn't seem happy about that.
Pallikal's forehand was even deadlier in the second game. From 2-2, the Indians raced to a 9-4 lead and Pallikal struck a forehand winner to get the job done.
Ghosal also had a spring in his footsteps a day after he made history by winning the first-ever singles medal for India in CWG history. The Indians won the world doubles title earlier this year and are expected to win the gold.
#Squash Update

Mixed Duo @SauravGhosal & @DipikaPallikal defeated Whitlock & Creed (WAL) 2-0 in the Round of 16; move on to the QF #Cheer4India#India4CWG2022 pic.twitter.com/EJZCooOUTHK— SAI Media (@Media_SAI) August 4, 2022
Earlier on Thursday, Anahat Singh and Sunayna Kuruvilla were in the pre-quarter finals of the women's doubles.
Anahat and Sunayna, who are both first in CWG, defeated Yeheni Kuruppu and Chanithma Sinaly 11-9, 11-4 in a round of 32 games.
Delhi teenager Anahat, who also won a round in women's singles, found some clear winners in the match. A tougher test awaits Anahat and Sunayna in the pre-quarter finals as they face Australia's Donna Loban and Rachael Grinham.
Abhay Singh and Velavan Senthilkumar also recorded a straight-game win over British Virgin Islands' Luca Reich and Joe Chapman to enter the men's doubles pre-quarter finals.
READ | CWG 2022: Boxer Amit Panghal secures India's medal, advances to semifinals
However, veteran mixed doubles duo Joshna Chinappa and Harinderpal Sandhu suffered an 8-11, 9-11 defeat in a round of 16 match against Australia's Donna Lobban and Cameron Pilley.
Joshna and Pallikal are the reigning women's doubles world champions and are expected to win their second gold in CWG history.
On Wednesday, Ghosal made history by becoming the first Indian to win a medal in singles at CWG.