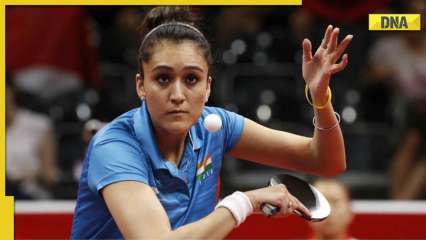 Indian table tennis star Manika Batra has advanced to the quarter-finals of the women's singles category after beating Australia's Minhyung Jee in her round of 16 match at the ongoing 2022 Commonwealth Games in Birmingham on Friday.
READ: CWG 2022: Deepak Punia and Bajrang Punia kick off their campaign with a win, qualify for quarter-finals
Batra was at her best in her 4-0 win. She won the match against her Australian opponent 11-4, 11-8. 11-6, 12-10. Minhyung was absolutely blown away by her opponent's great stroke play and agility as she barely got a lead over Batra. In today's quarterfinal, Batra will face Singapore's Zeng Jian.
Sreeja Akula also advanced to the quarterfinals of the women's singles category after beating Charlotte Carey of Wales in her round of 16 match. The game was hard-fought with the Indians winning 4-3. Akula won the match by a margin of 8-11, 11-7, 12-14, 9-11, 11-4, 15-13, 12-10.
Akula didn't start well as she lost the first game. She made a comeback with a win in second, but lost the next two and trailed 1-3. However, she made it 3-3 by winning her next two matches and also making it to the final to secure a spot in the quarterfinals.
READ: Harry, eldest son of former Indian pace bowler RP Singh, selected for England U19 cricket team
On the other hand, Reeth Tennison lost her pre-quarters match against Singapore's Tianwei Fang and crashed out of the race for a medal in the women's singles. She lost the match 1-4 by a margin of 2-11, 4-11, 11-9, 3-11, 4-11.