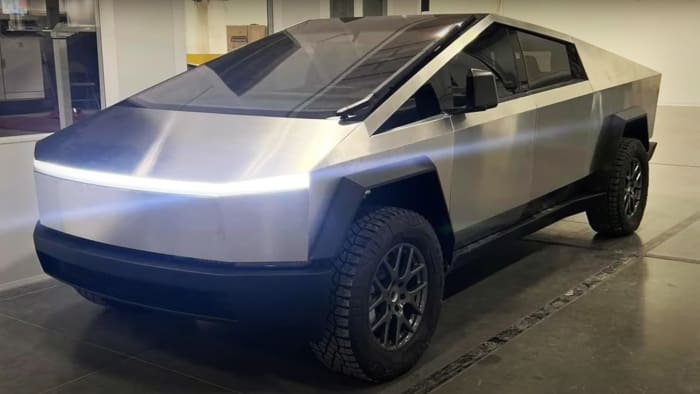 Tesla CEO Elon Musk has recently made several promises regarding the production of the long-awaited Cybertruck and finding a replacement for Twitter's chief executive.
Investors will probably have to wait until Tesla's Investor Day in March, where Musk could reveal more of his strategy to boost sales for the electric vehicle maker.
Tesla bull and investor Gary Black believes Tesla (TSLA) – Get a free report will make Cybertruck deliveries by the end of 2023 and estimates 10,000 truck deliveries as part of its total estimate of 1.9 million deliveries for 2023.
Musk has said that production of the Cybertruck could finally be finished and the trucks could be sold to consumers by mid or late 2023.
After years of waiting, production will start in June at the Tesla plant in Austin, Texas. According to Chief Vehicle Designer Franz von Holzhausen, things appear to be on track. He has just revealed some features of the Cybertruck and promises big surprises.
Von Holzhausen assures Cybertruck fans that the design is complete. "Is the Cybertruck ready from a design perspective," he was asked on the Ride the Lightning podcast with Ryan McCaffrey.
The episode aired on January 15. "Yes!" he replied, but added that the pencil isn't all the way down.
Musk first unveiled the electric pickup prototype in November 2019 at a promotional event in Los Angeles. The Tesla Cybertruck promises up to 500 miles of electric range, a maximum towing capacity of 14,000 pounds and a base price of less than $40,000.
On November 24, 2019, Musk said Tesla had already received at least 187,000 orders for the Cybertruck, five days after unveiling the vehicle.
Tesla is looking for a new CEO
Since Musk's $44 billion acquisition of Twitter, his focus has been on increasing revenue for the social media company.
However, Tesla investors want the billionaire to focus on improving sales for the EV company. Musk said in 2022 that he would step down as CEO of Twitter if he finds a replacement.
Tesla is 9.2% Black's Future Fund Active ETF FFND as of January 17. The EV maker had a terrible fourth quarter due to Twitter "noise" and the impact of lower manufacturing output from its factory in China, he said.
"I would like to know when he will announce a CEO for Twitter," said Black.
Future Fund ETF, which launched in August 2021, bought more shares of Tesla last week for $105 per share, but Black did not disclose the number of shares.
Tesla's brand hasn't taken a "hit," despite concerns that Musk focused solely on Twitter after taking the company private in October, he said.
As Tesla's favor waned, Musk did not continue tweeting conservative views, Black said.
"Elon is a smart kid and has learned to stop tweeting more conservative views," he said. "You don't want your brand influenced by your more right-wing views, especially if your customer franchise is over-indexed by climate-friendly Democrats. It annoys them."
Tesla's No. 2 Executive has a huge job to do
Tesla's Chinese CEO Tom Zhu was promoted to head the EV maker's U.S. manufacturing plants and sales operations in Europe and North America, according to Reuters.
Zhu is "very well regarded and has built a great business in China," Black said. "It will be interesting to see how he runs US affairs."
Tesla missed its 2022 delivery target, and Musk slashed prices on its two flagship models: the entry-level Model 3 sedan and Model Y SUV, which account for 95% of 2022 deliveries.
The price drop ranges from 6% to 20%, and there are two models that are eligible to take advantage of the new $7,500 U.S. federal tax credit.
The price cuts were necessary, even if they will affect profit margins in the near term, Black said.
"They had to do something to get volume growth," he said. "It's hard to say if they were too much. They had to do it."
The price cuts in the US and China have Zhu's "fingerprints on them," Black said.
Zhu serving as Tesla's second highest executive is positive for the company.
"His track record speaks for itself, assuming he can do the same in the US," he said.
Musk should focus his efforts on Tesla, as the stock's value fell 65% last year.
"We don't want Elon going anywhere," said Black. "He has brought the company to where it is today. We want him to stay."
Black and many other investors want Musk to use Tesla's stockpile of cash to buy back shares of the company.
According to FactSet, Tesla produced $9 billion in free cash flow by 2022.
Data showing that Tesla's brand has not been harmed by the impact of the Twitter deal could improve the company's valuation, said Black, who has a price target of $370 in 12 months.
Shedding light on whether Tesla will build Gigafactories in countries like Mexico would boost sales.
"If they want to sell 10 million vehicles annually by 2030, they need 10 Gigafactories producing 1 million" vehicles each, as the Fremont plant only produces 600,000 a year, while the Berlin and Austin plants produce 250,000 each, he said . .
Tesla's Megapacks, or battery storage units, could generate an additional $2 billion a year in profits if 5,000 units are sold at 50 cents a share, he said.
Production capabilities for the Megapacks in Lathrop, California came online in the third quarter and are intended to be sold to utilities.
"Elon is a long-term thinker," the investor added.
Black, a managing partner at Future Fund, said he would "like to see the board respond to what happened to the stock" as there are concerns about Tesla's long-term growth.
The board should "come up with a more realistic growth rate, like 35%, not 50%," he said.
Tesla's board should also "acknowledge" that the company is now dealing with demand constraint rather than supply constraint and should focus on areas such as advertising and PR so that the company can reach a $3 trillion valuation by 2030.
"They need to recognize that the world has changed and can't have that mindset anymore," he said.
Tesla relies on selling cars through word of mouth rather than having a large advertising budget like its competitors. The company does not have a PR team to answer questions from the media.
The company should also focus on increasing education about the safety of Tesla's vehicles, as it could increase brand equity as "full self-driving becomes more the norm," he said. "They can do better."