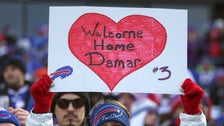 ORCHARD PARK, NY (TBEN) — Buffalo Bills safety Damar Hamlin made his first public appearance since going into cardiac arrest after a tackle against the Cincinnati Bengals three weeks ago. for an AFC divisional playoff game.
The crowd at Highmark Stadium erupted as an image of Hamlin recovering filled the huge screens near the end zones towards the end of the first half of the game. Fans turned to the glass-enclosed suite and cheered.
Hamlin, dressed in a hooded jacket, stood at the windows and raised his arms as if saluting and encouraging the crowd to get to their feet as the Bengals were on their 5 for second and goal. He ended up forming a heart sign with his hands, his signature gesture.
Earlier Sunday, the Bills posted a video on both Instagram and Twitter Showing Hamlin arriving in the team's dressing room and the message "Welcome home, Damar." The video showed Hamlin arriving in a golf cart about an hour before kickoff, wearing sunglasses and a face covering, the hood of his jacket pulled up. He was accompanied by his 7-year-old brother, Damir, and mother, Nina.
He was not seen on the field before the game started in snowy conditions. The Bills made no announcement of his whereabouts to fans in attendance, but word of his presence had spread by the time he appeared on screens.
"It was great, really. I think everyone was so excited," Buffalo's Brin Jobson said at half-time. "We heard he could be here, so it was cool to see him."
The 24-year-old Hamlin had not been seen in public since the Bills and Bengals last met on January 2 in a game that came to an abrupt halt and was eventually canceled after Hamlin collapsed on the field in the first quarter.
Bills coach Sean McDermott said that soon after his release from the hospital, Hamlin began making frequent visits to the team's facility in what he described as "dipping his toe back in here and heading out to just get back to himself."
His presence was enough to cheer his teammates, who surrounded him after Hamlin's collapse while medical teams used CPR and an automated external defibrillator (AED) to restart his heart.
For several minutes, the television audience tuning in to that Monday night game instead absorbed the fear and sadness on the players' faces, some with tears.
A family spokesperson for Hamlin said this week that he has a long rehabilitation ahead of him.
"Damar still needs oxygen and his heart is being checked regularly to make sure there are no setbacks or after effects," Jordon Rooney told The The Bharat Express News.
The Bills have not released the results of tests Hamlin underwent to determine why his heart stopped after being punched in the chest while making what appeared to be a routine tackle.
Hamlin, who is originally from the Pittsburgh area, tweeted live while watching Buffalo's 35-23 season victory over New England from his hospital bed at the University of Cincinnati Medical Center on Jan. 8. Last weekend, he tweeted live from home while watching the Bills' 34-31 victory over Miami in a wild card playoff.