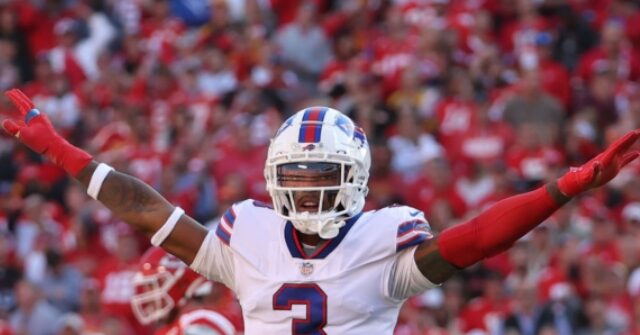 Buffalo Bills safety Damar Hamlin has been released from the hospital and returned to Buffalo for nearly a week after falling during a Monday night football game in Cincinnati last week.
Doctor William Knight, who cared for Hamlin during his stay at the University of Cincinnati Medical Center, told reporters he accompanied the athlete to the airport on Monday, claiming that Hamiln was "doing well" and "starting the next phase of his life." recovery."
Hamlin collapsed last Monday night after making a seemingly routine tackle on Bengals receiver Tee Higgins. Hamlin stayed behind the tackle, appeared ready to walk back to the group for the next play, then suddenly collapsed. Buffalo's medical team worked feverishly to revive Hamlin. 9 minutes of CPR before an ambulance arrived to take the player to UCMC.
Hamlin took to Twitter to thank everyone who supported him.
Went home to Buffalo today with a lot of love on my heart. 🏾

It was a really great feeling to see the world come together around me on Sunday.

The same love you all have shown me is the same love I intend to give back to the world.

Bigger than football! 🏾

— (@HamlinIsland) January 9, 2023
After Hamlin was removed, the game between the Bengals was postponed and eventually cancelled. Hamlin's release follows an incredibly emotional day for Hamlin and the Bills. On Sunday, Hamlin sent love to his teammates by posting a pregame message proclaiming, "GAMETIME!!!"
Twitter users welcomed the news of Hamlin's release.
❤️❤️❤️ this is incredible news i am so happy for you and your family ❤️❤️❤️

— Bridget Phetasy (@BridgetPhetasy) January 9, 2023
God is good

— Mark McMillian (@MarkMcMillian29) January 9, 2023
We all love you brother! 💙❤️

— Jordan Schultz (@Schultz_Report) January 9, 2023
I LOVE YOU BUBBA

— The Iron Sheikh (@the_ironsheik) January 9, 2023
Yes and Amen! 🙏

— Jason Romano (@JasonRomano) January 9, 2023
Prayer is so powerful! God bless you brother.

— Ismael Montoya (@ismael__montoya) January 9, 2023
The Bills will host the Dolphins in the first round of the playoffs on Sunday.