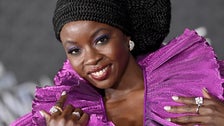 A "Black Panther" spin-off show for Disney+ may be in the offing.
Danai Gurira, who stars as Okoye in Marvel's "Black Panther" franchise, appeared Friday on "The Late Show with Stephen Colbert," where she "gently alluded" to an upcoming series based on her character.
When asked if she can confirm reports of a spin-off show featuring the vibranium spear-wielding head of the Wakandan Armed Forces, the actor tiptoed around an official response.
Finally she broke down, telling Colbert, "I've been told I can allude to this possibility softly."
"So, I allude softly, just softly," she joked with a smile.
Colbert jokingly shot back, "Aluding you softly is the Marvel version of a full monty. I can't believe I got anything out of you.
Gurira is reportedly slated to take on the role of Wakanda's fiercely loyal protector in the spin off series since 2021, according to The Hollywood Reporter. However, Disney has not yet confirmed the show or announced a release date.
Since 2018's 'Black Panther', Gurira has also appeared as the leader of the Dora Milaje, a royal all-female security team for King T'Challa, aka Black Panther, in 2018's 'Avengers: Infinity War' and 'Avengers: Endgame ' from 2019. and 'Black Panther: Wakanda Forever' from 2022.
"Wakanda Forever" director Ryan Coogler will also reportedly helm the upcoming streaming series, by TBEN.
In 2021, Disney announced that the famed filmmaker will develop new television series for the studio as part of a five-year exclusive television deals with Coogler's Proximity Media.
In November, 44-year-old Gurira arrived People about being proud of filming the record-breaking 'Wakanda Forever'. She added that grieving with her castmates after the death of the film's lead actor Chadwick Boseman "meant everything" to her.
"It was not an easy journey. It was the whole journey of making this movie, getting it to the finish line," she said at the time. "Sometimes I really had the feeling: are we going to make it? Even sadness, you don't know when it will hit you.
She added, "The way the world expanded beautifully, the right people came in and really understood that we were there to honor this man and we went through grief as we pursued that goal."
"Black Panther: Wakanda Forever" will stream on Disney+ on February 1.