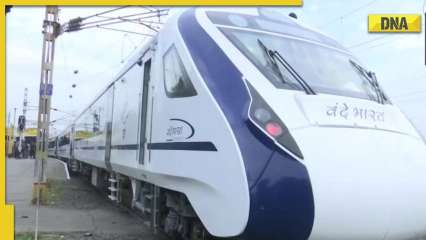 Delhi-Jaipur Vande Bharat Expressway: Khatipura railway station is under renovation. (File)
The Delhi-Jaipur-Mumbai Expressway will be the longest high-speed corridor ever built in India. The more than 1350 km long road will shorten the travel time between Delhi and Mumbai from 24 hours to 12 hours. The people of Rajasthan will also benefit from the highway as it will pass through the state. The highway will cut the travel time between Delhi and Jaipur by half. It currently takes between 5 and 6 hours to reach Jaipur from Delhi. Travel time is reduced to 2.5-3 hours. However, the proposed Vande Bharat train between Delhi and Jaipur will take less time. The transit time between Delhi and Jaipur takes 1 hour and 45 minutes.
Jaipur BJP MP Ramcharan Bohra met with Union Minister of Railways Ashwini Vaishnav on Friday where the two politicians discussed development issues related to Rajasthan's capital. According to reports, the minister has assured the MP of rail projects worth Rs 900 crore. Before March 2023, the Vande Bharat Express between Delhi and Jaipur is expected to start.
The minister also assured the MP that the ministry will beautify Sanganer railway station in Jaipur. Railway lines are being doubled between Jaipur and Sawai Madhopur. An underpass is being built at the Diggi-Malpura intersection to relieve traffic at the intersection.
Khatipura Railway Station is being renovated, Aaj Tak reports.
The Vande Bharat Express is a semi-high speed train designed and manufactured by the Integral Coach Factory, Chennai. It can reach a speed of 180 km/h. But due to the condition of the tracks and other factors, it operates at a maximum speed of 130 km/h. The speed between Delhi and Jaipur is probably 130 km/hr. The average speed will be 75 km/h.
The railway ministry plans to run four trains from Rajasthan to Delhi. These cities are: Jaipur, Jodhpur, Kota and Udaipur.
The authorities are already conducting test runs of the train in Rajasthan. All tests have been successful. Rs 500 crore will be spent on running these trains in Rajasthan, Bhaskar reported. In September, six trains will run on the rails in Rajasthan.
Five maintenance depots will be created in Jaipur, Madar, Ajmer, Udaipur and Sri GangaNagar and Jodhpur.
It is not clear what the ticket prices will be for the trains to Rajasthan. Between Delhi and Varanasi, the ticket price for Vande Bharat Express is about Rs 1800 for the chair car and Rs 3000 for the executive coach.