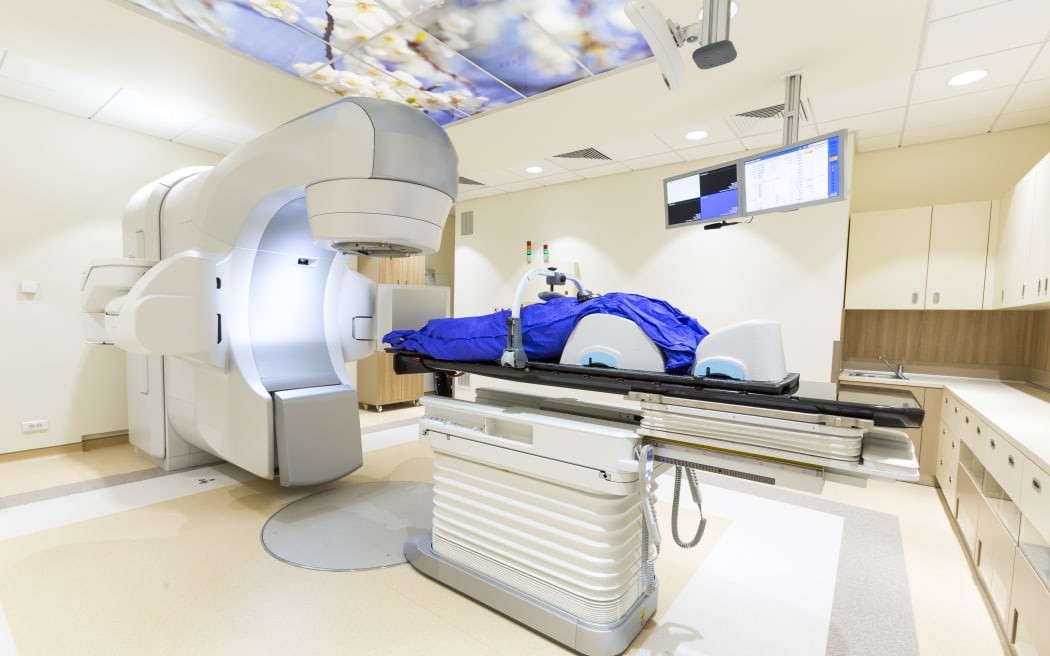 matcher to MR free
Cancer specialists warn the country is at a "point of no return" for investing in more workers and better treatment.
New, more accurate forecasts show that the number of radiotherapists falls when they have to double.
The new forecasts show that to match Australia's level of care – which is well ahead of New Zealand's – the country would need 104 radiation oncologists now and 129 in 2031.
But it only has 68 and that can go down to 64.
Read the full report (PDF 730KB)
dr. Dunedin's Shaun Costello will present the forecasting model at the Royal Australian and New Zealand College of Radiologists conference on Sunday.
"We've come to the point where if we don't do anything, the patient will suffer more and more damage in the coming years," he said.
"I think we've reached the point of no return in New Zealand – we're either investing or it's going to be extremely difficult for those patients who are suffering from cancer."
The Department of Health categorizes radiation oncologists (ROs) as a "vulnerable workforce…because of the magnitude of the shortage and the potential life-threatening consequences of severe shortages," the study said.
For example, previous modeling was too imprecise and inflexible to adapt to changing government policies.
The improved model increases the number of cancer cases from 28,000 today to 34,000 in 2031, mainly as a result of population growth.
It uses a large database plus a work life overview to take into account many more factors, such as the complexity of cases moving from "low to very high", and how much professional development and training needs to take place.
"The predicted numbers of ROs would not be able to meet the demand for radiation therapy," even at today's relatively low treatment levels, the study said.
"It would take about double the RO staff to meet the demand."
'Joy no longer has a job'
The model took into account the fact that many radiation oncologists were older than 50, wanted to reduce to part-time, or actually had a burnout.
"When I started in New Zealand… we worked fairly long hours, but it was a five-day-a-week job," says Costello, 63, who works at Dunedin Hospital.
"And now radiation oncology is a seven-day-a-week job."
Oncologists used an average of 50-55 hours per week, compared to 41 hours in Australia, even as public hospital waiting lists continued to grow, the study said.
"A lot of the joy has gone out of the track," Costello said.
"The way we're coping right now is that our free time is being lost – the time for medical training, for doing research is gradually being swallowed up by increasing clinical demands.
"And I think the other thing that's important is that the pressure on the family is enormous."
Paying across the Tasman starts at the point where it ends here, at the 15th step of a 15-step system, or about $250,000.
That's still a lot of money. Can salaries be cut?
Not in a global market, Costello said. The study added that there were "major shortages in the….. workforce and infrastructure worldwide, with more predicted for the future".
'Leaking bucket'
New Zealand also has other problems: no government-funded scholarships for graduates to specialize, while Australia has plenty.
"You've got the leaky bucket," said Costello's colleague, Dr. Melissa James, at Christchurch Hospital.
"You're Losing Radiation Oncologists Now That We're Retiring" [or leave for Australia]but you can't replace them with the training numbers."
Her personnel survey underpins years of failed radiology school pressure on the government to at least double the annual graduate rate from just three a year, and to fund scholarships.
"Unfortunately, we didn't have any joy," she said.
"Many parts of the medical world… are desperately short.
"I think our problem with cancer is that, you know, delays are very important in cancer."
The Cancer Control Agency, Te Aho o Te Kahu, in a new Cancer Services Planning report, said the influx of radiation oncologist interns should double to 10 per year.
But the backups were short, too: The number of radiation oncologists has been around 230 for a decade, while their workload has increased by a fifth, James said. The therapists are part of the team that provides care under the supervision of the oncologist.
The work environment suffers, she said.
"All these important things are being done. But … generally, radiation oncologists have up to an hour a week to do research," she said.
"So what that means is we can't improve ourselves. We can't learn techniques that they do abroad. We can't take trials."
Costello went out of his way to say the system is "broken, but beyond repair," although it was unfortunate that the government's staff increase on Monday made no mention of radiation oncology.
It did include an increase in the number of radiologist interns by 15 in three years.
"I have a little hope that there might be a slight confusion between radiologists and radiation oncologists, and that we can strongly argue for the same considerations," Costello said.
Any staff delays should come with more machines as linear accelerators were updated, but actual capacity hadn't been added in a decade, Costello said.
"We have a serious shortage of the machines we need.
"There is no point in training more people to drive the bus if there is no bus to drive."