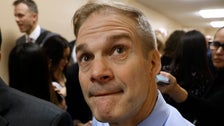 The Department of Justice (DOJ) has sent a targeted letter to the new chairman of the House Judiciary Committee, Rep. Jim Jordan (R-Ohio), citing that information about ongoing investigations is unlikely to be shared to ensure the "integrity" of the case. to investigate.
In addition, the letter warned that the DOJ was unlikely to share "non-public" information.
The letter said the department is "committed to cooperating with the committee's legitimate information seeking efforts," adding: "Any oversight request must be balanced against the department's interest in protecting integrity of her work." Assistant Attorney General Carlos Uriarte sent the letter to Jordan on Friday.
"The Department's long-standing policy prevents us from confirming or denying the existence of ongoing investigations in response to congressional requests or providing non-public information about our investigations," the letter said.
"The ministry's obligation to 'protect the government's ability to prosecute fully and fairly' is vital to the executive branch's core constitutional function of investigating and prosecuting criminal cases," Uriarte said in the letter.
He added that the executive branch's policy throughout history "has generally been not to allow congressional committees to access or make copies of open law enforcement files, except in extraordinary circumstances."
The letter was in response to Jordan's sweeping request Tuesday for information about several investigations to Attorney General Merrick Garland, as well as the FBI, the Drug Enforcement Administration and the Bureau of Alcohol, Tobacco, Firearms and Explosives.
The demand included all documents and communications related to classified documents recently found in President Joe Biden's home and a former office.
Jordan not only heads the Judiciary Committee, but also a special subcommittee to investigate the Biden administration and the so-called "arming" of the federal government.
Uriarte's letter outlines ways in which the DOJ and the commissions can work together. DOJ officials can update committee members on cases, he noted.
In addition, DOJ authorities can testify in congressional hearings on certain matters as long as they are given at least two weeks' notice, he wrote.
Jordan did not immediately respond to the letter. But a tweet from the committee questioned why the DOJ was "afraid" to cooperate.