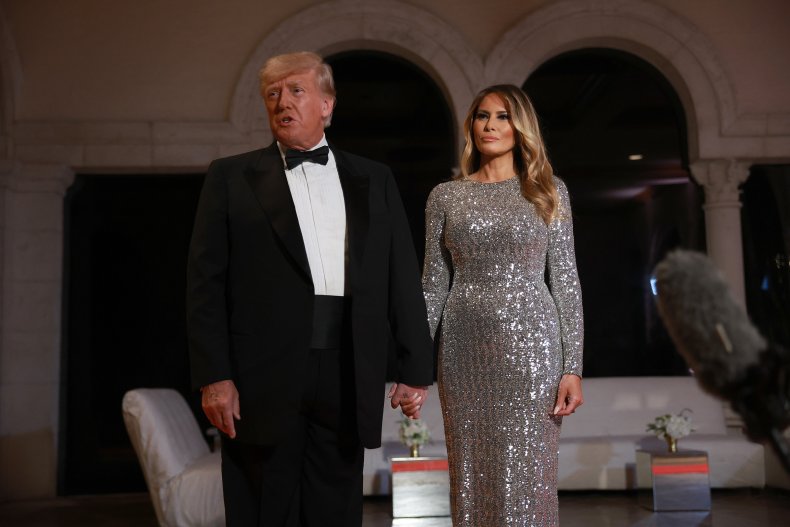 Former President Donald Trump claims to be a shrewd investor and businessman. However, his tax returns show that he sold stock in Apple and Microsoft way too early, missing out on millions of dollars.
According to his 2017 tax returns, Trump and his wife Melania sold stock in six companies in early 2017, including tech giants Apple and Microsoft.
As the charts below show, both tech stocks rose sharply after 2017 and peaked in 2021-22. While both companies have seen their valuation fall recently, both are still well above the price at which the Trumps sold.
Both technology stocks were bought by the Trumps in October 2013 and both rose significantly. Apple stock was bought for $481,505 and sold for $833,118, yielding $351,613, a 73 percent gain. Microsoft stock was bought for $248,867, sold in 2017 for $464,558, and earned the Trumps $215,691, an 87 percent gain.
If they had held on though, both stock holdings would have been much higher.
An investment of $481,500 in Apple stock in 2013 would now be worth $4,150,000, yielding a total profit of $3,669,000. If Trump had kept his Microsoft shares, they would be worth just under $2 million right now.
If they sold today, the Trumps would have earned more than $5 million in proceeds.
This does not take into account the peak prices of either stock. The Trumps could have sold the Apple stock for about $5.1 million in early January 2022, and the Microsoft stock for $2.5 million in November 2021, yielding a potential profit of more than $7 million if dividends are included .
Trump tax return
The House of Representatives' Ways and Means Committee released six years of the former president's tax returns at the end of 2022, leading to further dissection of Trump's financial affairs. The tax returns showed that Joe Biden had paid $4.1 million more in federal taxes than Trump over the six-year period, while the records showed that Trump had several foreign bank accounts during his time in the White House.
In a statement sent to News week and published on his campaign website, Trump warned that House Democrats "should never have published" the tax data and that the U.S. Supreme Court "should never have approved it."
The statement continued: "'Trump's' tax returns show once again how proudly successful I have been".
The 2017 document (in the bundle 'Appendix E', file Form 1040 2017-1.pdf), a joint individual tax return for Donald Trump and Melania Trump, shows the Trumps sold stock in seven companies, most of which were bought sometime in 2013 and sold in 2017.
The stock's net income over those 4 years was a pretty impressive $642,000, from an initial investment of $1.36 million, a 47 percent return. By comparison, the S&P 500 rose about 32 percent over the same period.
Trump claimed in 2014 that he had sold his Apple holdings, saying on Twitter that:
"I predicted Apple's stock market drop based on their stupid refusal to give the option of a bigger iPhone screen like Samsung. I sold my Apple stock"
However, there is no evidence of any sales of Apple stock in 2014 in the tax returns released by the commission. The 2017 tax returns show that the Trumps did not sell until January 2017.
The tech news website CNET reported in 2016 that Trump owned "millions" in Apple stock, according to a financial disclosure document Trump released before the 2016 election. However, that document shows that his Apple holdings are worth between $500,000 and $1 million, which is consistent with his 2017 tax return.
News week contacted the Trump office for comment, but received no response at time of publication.