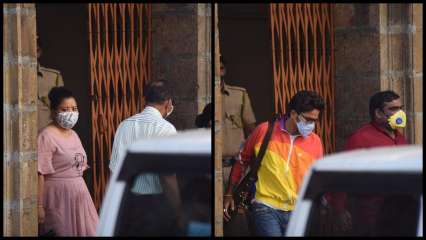 The Mumbai Esplanade Court sent actress Bharti Singh and her husband Haarsh Limbachiyaa to judicial detention on Sunday until December 4. Both were arrested by the Narcotics Control Bureau (NCB) in connection with the suspected use of cannabis.
The couple filed for bail shortly after being remanded in custody. The magistrates' court will hear the bail applications on Monday.
Before presenting the couple to court, the NCB took them to the hospital for a medical examination.
Bharti Singh was detained on Saturday while Haarsh Limbachiyaa was arrested on Sunday morning.
"Drug use charges have been brought against them," ANI said, quoting Sameer Wankhede, zonal director of NCB, Mumbai.
The Narcotics Control Bureau (NCB) raided the production office and comedian Bharti Singh's home on Saturday and 86.5g of marijuana was recovered from both locations.
Bharti and her husband Harsh Limbachiya both accepted the use of marijuana.
Up to 1,000g of marijuana is considered a small amount, resulting in a prison sentence of up to six months and / or a fine of 10,000 rupees.
Possession of a commercial quantity – 20 kg or more – can result in up to 20 years in prison.
For the intermediate amount, the penalty can be up to 10 years in prison.
NCB had previously raided a place in the Khar Danda region and caught a 21-year-old trafficker with various drugs, including 15 spots of LSD (commercial amount), marijuana (40 grams) and nitrazepam (psychotropic drugs) ).
As a continuation and corroboration of previous contributions, NCB rushed to their homes in at least two locations in the Lokhandwala and Versova complex, in the suburb of Andheri, and thoroughly searched the premises for drugs. prohibited (marijuana).
It comes as the investigation, which began from the drug case in connection with the death of actor Sushant Singh Rajput, continues to extend to alleged drug abuse by Bollywood celebrities.
(With contributions from the agency)
.