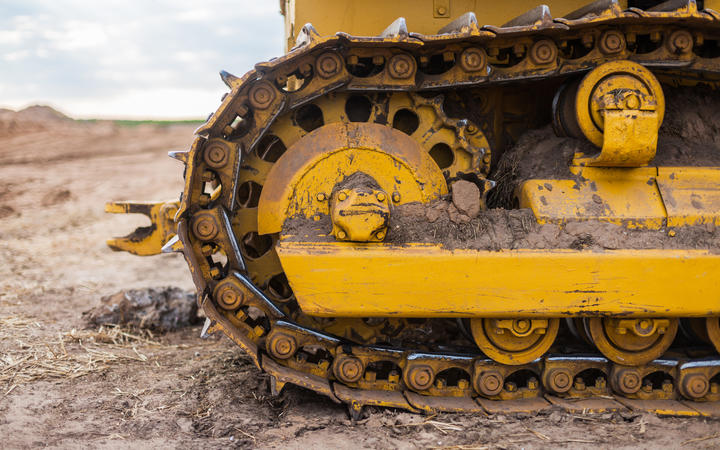 Earthworks on an ancestral maunga next to the Whanganui River were temporarily suspended, after the local hapū stopped the bulldozer, claiming they had not been consulted on the desecration of their wāhi tapu, or sacred site. .
Dozens of members of Ngāti Tuera and Ngāti Hinearo visited Punakewhitu maunga last week, after a call on social media from Hine Stanely (Ngāti Tuera) for descendants to come to the site.
Part of Punakewhitu Hill, affectionately known as Gentle Annie and privately owned, has been bulldozed to open up the entrance and exit to the property to allow logging trucks to enter and exit .
It was planned to take 2 meters from the front face and another 2 meters from the side of the maunga, but the work was halted after the intervention of the members of the iwi and the hapū.
I had the privilege of spending this morning supporting our Whanganui Awa hapū & whānau karanga to protect their wahi tapū Maunga Punakewhitu from further destruction. After sharing tears, kōrero & whakapapa le whānau declared that the desecration of our precious maunga must stop. pic.twitter.com/sA0NSDI0JH

– MP Debbie Ngarewa-Packer (@packer_deb) February 18, 2021
Land is considered wāhi tapu for them, and the Horizons Regional Council has said some sites require specific consent under the Heritage New Zealand Act, which calls for consultation with hapū and iwi.
However, descendant Kiritahi Firmin (Ngāti Tuera, Ngāti Hinearo) said that no such engagement had taken place and that they were shocked and saddened to see their maunga desecrated.
"We wanted to be clear … that this is not just what can happen to our wāhi tapu when there is no consultation, even if the land is privately owned."
Firmin said the maunga was extremely important to its people.
"You will walk past this on your way up to our awa tipua, the river road – everyone is walking past this and you cannot miss it. And to hear the tangi of our aunt kuia Hine Stanely, who brought us together, and our aunt Retihia Cribb who brought us together, was really moved. "
Tamariki from Te Kura o Te Wainui-à-Rua, Te Kura o Kokohuia and Te Kura Kaupapa o Te Atiahaunui-A-Paparangi also came to whenua to support hapū.
Landowner John Oskam said the work had been agreed and there had been seven months of consultation with Ngā Tangata Tiaki o Whanganui, the post-settlement entity for the iwi and hapū in the area.
He said the Horizons Regional Council, which grants the consents, told him that Ngā Tāngata Tiaki o Whanganui was the only group they were required to consult with before seeking consent for the resources.
"There appears to have been a systems failure somewhere along the line."
"It was assumed that after passing through Ngā Tāngata Tiaki o Whanganui, all of this would be put in place, keeping in mind that what we were doing in our opinion was sensible, not extensive. And if anything, it opened the view. So we were surprised that it offended people, "Oskam said.
"I can understand that the people further up the river weren't consulted, it's all my fault – I don't think so – I mean we have an iwi body with NTT whose job it is to do that, I imagine. "
Ngā Tangata Tiaki o Whanganui President Gerrard Albert said the resource consent seeker and the Horizons Regional Council had made commitments with his organization on a land management plan – to limit its entry into the river Whanganui – was signed by hapū.
"This situation is a classic example of the myth which unfortunately continues to be perpetuated by Horizons that one Maori is the same as another."
Albert said the regional council was well aware that it was required to consult hapū.
"It is sad and NTT has demanded that Horizons, as a public body issuing the consent, recognize its flaws and correct this situation."
Oskam said members of the hapū told him they would be in touch "once they have done their own internal consultations."
However, he said he could only wait as long as there was forestry equipment that they couldn't get out, because the existing track was too narrow.
"I think we'll wait until next week, but some people said it would take a lot longer … I think it's unfair, I think even from a security point of view, we should be able to safely access our property, "he said.
In a statement, the Horizons Regional Council said it understands work has been suspended and the landowner, logging company and hapū are in discussions.
He has yet to respond to RNZ's requests for additional information on iwi / hapū stakeholders that he had asked the landowner to consult, if iwi / hapū was explicitly consulted on the resource consent of the earthworks. and whether he followed up to verify that the consultation took place. .
.