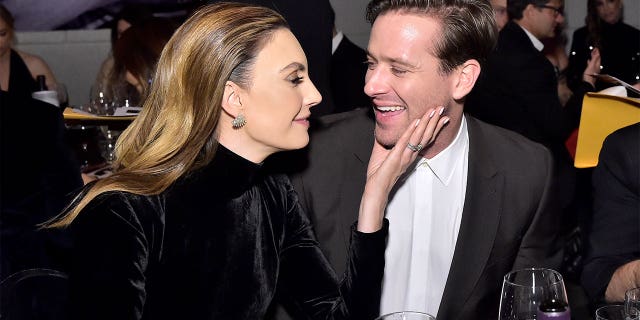 Elizabeth Chambers said her two young children don't know about her new boyfriend because she tried to "protect" them from any "trauma" while they were still going through her divorce from their father Armie Hammer.
"They don't know he's my boyfriend," she wrote to a fan during a Q&A session on her Instagram story. "For the past two and a half years, my main and only priority has been to reduce trauma and protect my children at all costs."
She added that she didn't find it "helpful, productive or necessary" to start a new relationship with children who are "still processing a divorce emotionally," but noted, "to each his own." Chambers is currently dating wellness therapist Ricardas Kazinec.
Chambers filed for divorce following allegations of abuse, rape and cannibalistic fantasies against Hammer. He has denied the allegations. The couple had been married for 10 years.
ARMIE HAMMER'S EX SAYS ONE QUALITY IS THE MOST IMPORTANT TO HER IN A NEW RELATIONSHIP
The former couple shares Harper, 8, and Ford, 6.
Chambers has been living in the Cayman Islands with her children since she filed for divorce, but is co-parenting with Hammer.
CLICK HERE TO SUBSCRIBE FOR THE ENTERTAINMENT NEWSLETTER
"We are fully and completely committed to our children, and to be together as much as possible in a non-romantic way for our children. Children need their mother; children need their father. So there is nothing we will not do, she told E! News in September.
She also said she is in one "committed relationship" with Kazinec, but is in no hurry to get more serious.
CLICK HERE TO GET THE TBEN NEWS APP
"I just live in the moment and am happy," she said at the time. "My friends and I always joke, 'The juicy juicy is the best.' "I'm in no hurry to get through the juicy juicy. We don't have to think about anything. Whatever happens, it's beautiful."