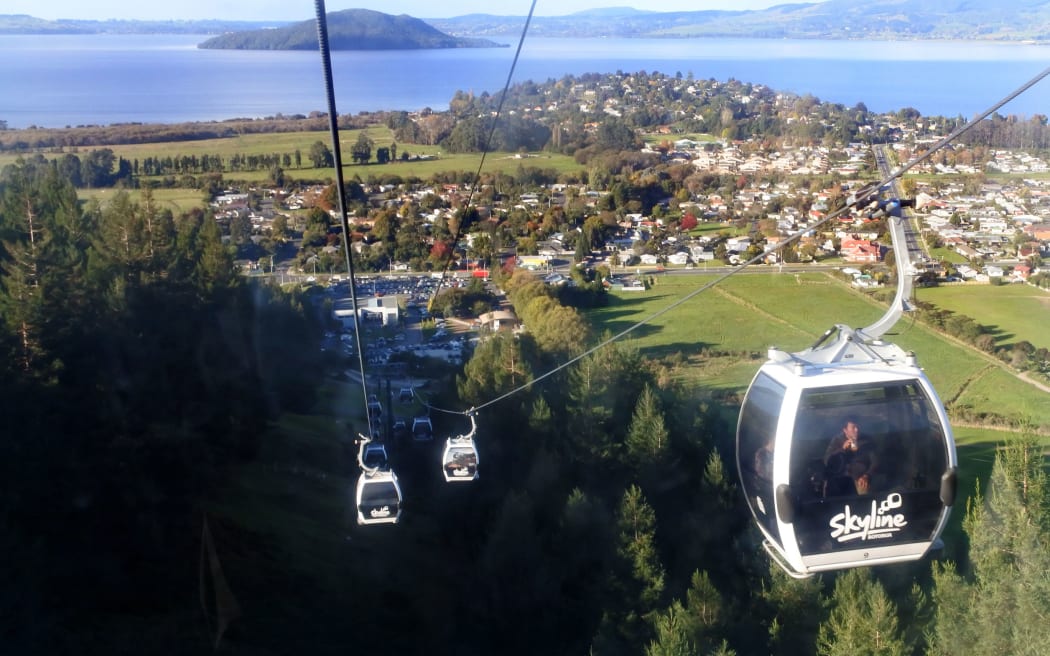 Rotorua companies are calling on the government to intervene in emergency housing as the iconic destination prepares for an influx of summer tourists.
An investigation by TVNZs Sunday program has raised serious concerns about the treatment and welfare of tenants living in motels and hotels for emergency housing.
Companies said the lack of action to address emergency housing conditions and security concerns was causing problems for vulnerable people, residents and tourists, and that it tarnished Rotorua's reputation.
Gregg Brown owns Capers Cafe and Store, and The Pig and Whistle, and said vulnerable people shouldn't live in misery.
He is in talks with other residents to find out how the emergency housing problems can be solved.
"I am really disappointed that we have reached this stage. There are a lot of emotional people who are disappointed that the city has come to the state it is in."
He agreed to use motels as emergency shelters, but did not think they should be used for mixed use, both for tourists and emergency housing.
Brown was optimistic about visitors returning in droves in the summer, but wasn't sure how the city could accommodate many more people.
He wanted the government to take matters into their own hands before the situation worsened.
"How do you restore a reputation if the problem isn't solved? If we restore our reputation and give people the wrong idea of ​​what's going on here, it's not good for the tourism industry.
"First we have to solve the problem around motels and then I think we can say that Rotorua is going back to the jewel it once was in tourism."
Pre-Covid, the city attracted more than three million visitors a year, according to the attractions and activity monitor in October 2018.
Rotorua Rafting and Rotorua Zipline owner Sam Sutton said companies like him depended on tourists staying for a few days and trying different activities.
With nearly 50 accommodation providers being used for emergency housing in Rotorua, he feared tourists would look elsewhere if there wasn't enough accommodation.
Especially when word of mouth about the city wasn't good.
"Travelers are wary of what they hear and whether the negative publicity for Rotorua is actually detrimental to the survival of many different whānau in our small but pretty amazing city," Sutton said.
The clock was ticking towards the first summer with international visitors in years.
"We are running out of time to realistically resolve the situation for this summer."
But there seemed to be no quick fixes on the horizon.
"We can't actually find housing to house our staff, let alone find housing for the homeless, so we're not too sure how we're going to get there."
Rotorua's marketing and economic development body has been raising concerns about emergency housing to the government for months.
RotoruaNZ chief Andrew Wilson said the housing emergency caused problems, but the city was not defined as a destination.
"Part of the solution will be how we get some of these motels back on the tourist market.
"We are certainly offering to help motels where they make a decision to maybe return to tourism and we will see what we can arrange to make sure they…really fit and ready to receive visitors."
RotoruaNZ had great interest from international visitors for the coming summer, he said.
One of Wilson's biggest concerns was motels housing tourists, emergency housing, and long-term renters at the same time.
"They (the government) could end mixed-model motels. They pay the bills, there's no reason they can't end that.
"We need to see some sort of date… or some sort of sinking lid that basically means there's a plan in place that will bring these kinds of scenarios to an end."
Housing Secretary Megan Woods said a government task force is working with the council to work out how to reduce and eventually stop the number of mixed motels.
"Since April, there has been a drop of 55 whānau receiving emergency housing benefits in the Rotorua region, with some people moving into social housing," she said.
Responding to concerns from tourist agencies about a lack of accommodation, she said it was a commercial decision for moteliers.
"The type of accommodation we are talking about, on the two and three star side, is not typically what high-quality tourists choose.
Woods said more public houses were being built, infrastructure was being funded to allow for more homes, and Rotorua was being targeted as a priority area to address the city's emergency housing problems.
"We have already added 210 public housing units in Rotorua, while Kāinga Ora, Community Housing Providers and iwi have nearly 300 public housing units under construction or well advanced in the planning stage, with 272 on track for completion in June 2024.
"In the meantime, the new model of direct government contracted motels with dedicated family group accommodation and wrap-around services is working well.
"Since July 1, 2021, more than 180 contracted emergency housing whānau have been supported in other accommodation, including private rental, transitional and public housing."