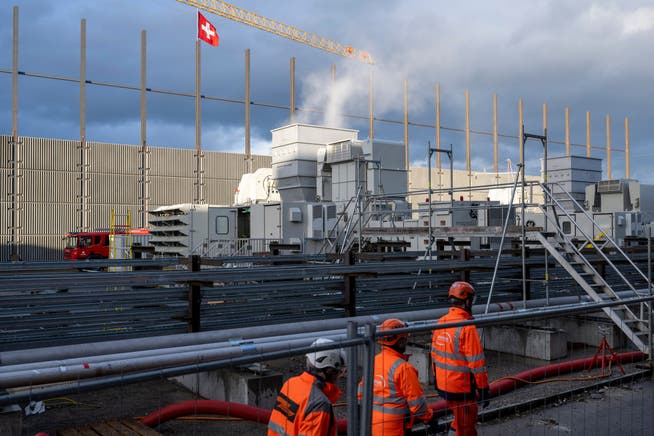 energy

Test failed: Birr emergency power plant turbine not working
In mid-February, General Electric (GE) has to hand over the operational emergency power plant in Birr to the federal government. On Friday, the media were invited to a turbine test – but it failed: the campaign was canceled after about an hour and the experts couldn't get the turbine to run
"Work is currently underway at GE to ensure that the individual gas turbine generator units are ready for operation," said the invitation to the media for the meeting on Friday afternoon. The installed turbines for the Birr emergency power plant are tested on site on the company premises.
The media representatives were called in at 3 p.m., and project director Ulrich Weber received the journalists and photographers. The idea: show the media just how loud a gas turbine from the reserve power plant in Birr actually is. "You will see that they are actually very quiet," emphasized the project manager, who has been implementing such projects for General Electric for 20 years. "We'll be able to talk normally in this room without being disturbed when the power plant is running."
Much (media) noise about little noise?
At the short media briefing before the tour of the construction site, he was very confident that the schedule set by the federal government would be adhered to. At the end of February, the power plant must be able to supply electricity if required.
Our journalist wanted to know why a 20-meter noise barrier was being erected and silencers attached to the eight turbines if they weren't that loud. Ulrich Weber shrugged his shoulders: "We have been commissioned (by the Federal Office for the Environment, editor's note) to do everything humanly possible to ensure that the population is disturbed by the noise as little as possible".
The machine doesn't want to start
Ulrich Weber then accompanied the media representatives on the construction site. This remained closed for security reasons, and the SRF team's camera was set up at a safe distance. A fire truck was parked in the background. "Safety is the top priority," emphasizes Weber.
The GE experts tried several times to start the fifth turbine. Four previously tested turbines had worked. But she just doesn't want to.
But the attempts were unsuccessful and after about an hour the campaign ended.
Four previously tested turbines had worked. It is currently not known where the problem lies with the fifth. "Something is wrong with the ignition," says Ulrich Weber. That's the way it is in the life of an engineer who deals with such operating systems. The fact that the test phase didn't work doesn't bother him, as it often takes several attempts before all the details of the system have been adjusted and the turbines rotate smoothly.
But the fact that it didn't work now, of all things in front of the television cameras and the curious journalists, is probably due to the date: Friday the 13th, jokes the project manager. In fact, the elements seem to be playing against us: A strong wind is blowing, soon the blue sky disappears behind threatening clouds. It starts to rain.
update follows…