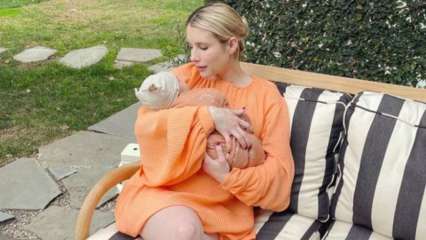 Two weeks after it was announced that Emma Roberts welcomed her baby boy with boyfriend Garrett Hedlund, the actress has now confirmed the same on her verified Instagram account.
In addition to the first public photo of them together, Emma also shared her son's name with her fans.
Check it out.
Emma Roberts wore a Stella McCartney dress and Andrea Wazen heels for the big reveal. She captioned the photo, saying, "Thank you 2020 for doing one thing right. Our bright light Rhodes Robert Hedlund."
Emma has not shared her son's date of birth with fans. While pregnant, Emma had told Cosmopolitan about her long-held dream of being a parent and her journey to expecting her first baby.
She had said, "Since I was little, I wanted to have a baby, in theory. When I was little, I begged my mother to have another baby. The day she brought my sister home from the hospital, I remember having her, wanting to dress up and play with her. "
She added, "It sounds cheesy, but the moment I stopped thinking about it we got pregnant. But even then I didn't want to hope. Things can go wrong when you're pregnant. C is something. you don't see on Instagram. So I kept it to myself, my family and my partner, not wanting to make big plans if it wasn't going to work out. This pregnancy made me realize that the only plan you can have is that there is no plan. "
.