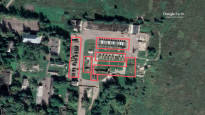 St Petersburg Air Defense
– Saint Petersburg is protected by four anti-aircraft missile regiments equipped with long-range missiles.
– They are designed to counter aircraft, cruise missiles and intermediate-range ballistic missiles.
– The regiments contain a total of 14 batteries, which are placed in a circle around outside the city.
– In practice, this means that there are more than 100 mobile shooting platforms in total. Each of them has four ready-made missiles, or about 450 missiles.
– The headquarters and barracks of the anti-aircraft missile regiments are permanent, as are the locations of the batteries. Batteries manned by one regiment are usually several kilometers or even tens of kilometers apart.
– The anti-aircraft missile regiments are part of the Russian Aerospace Forces (VKS).
– In addition, there is an army anti-aircraft missile brigade with Buk-M2 systems near the Saint Petersburg ring road on the southern coast of the Gulf of Finland. Yle has not determined whether there have been any changes at this location.